'NBA Playgrounds' Update: Patch 1.1.2 eliminates a multitude of issues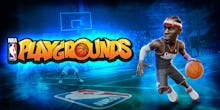 With each update, NBA Playgrounds is getting more logical, and that's not a bad thing. The team at Saber Interactive have put in the work to improve NBA Playgrounds since it released in early May, and Patch 1.1.2 might be the update that allows the game to reach its full potential.
NBA Playgrounds Update 1.1.2: Here are the changes that come with the new patch
The shot meter was a good idea, but subsequently, the increased difficulty on three-point shots from the previous update left the shooting insanely difficult. The adjusted three-point accuracy for good long-range shooters is a nice balance. 
Also, the tuning of steals is another welcome change. Matching success with the appropriate action makes the gamer feel as if you're in control of the events on the screen.
NBA Playgrounds works because it is a star-driven, simple concept with enough flare to grab the attention of hoops fans of varying levels. These new tweaks and improvements simply give the game more rhyme and reason.
While the changes aren't likely to be noticed by the first-time or casual player, they serve as a major positive for more consistent players and those who took to the game when it was released.
More sports gaming news and updates
Love sports games? Check out more content from Mic, including tips for leveling up your NBA 2K17 MyPlayer, playing quarterback in Madden 17, our review of MLB the Show 17 and the classic Nintendo sports games we want to see on the Switch.