This 'Overwatch' Lúcio cosplay from MomoCon is absolutely incredible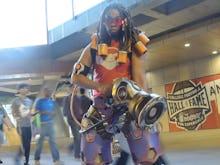 We may have some criticisms about Lúcio's new skin from the Overwatch anniversary event, but this cosplay from MomoCon is the balm to our collective worries. 
Cosplayer Neverending Dreamz spent 340 hours crafting every single item of his Overwatch cosplay. Not only did he tailor his shirt, pants and belt — he constructed his Sonic Amplifier gun and wired up two speakers, plus a sub woofer, for a full Lúcio experience.
Overwatch has had an incredible array of beautiful cosplay since they went live a little over a year ago. Tumblr has been taken over by Overwatch fans, after all. But if this is what we can look forward to, I can't wait to see what the community will do next. 
More Overwatch news and updates
For more on Overwatch, check out the rest of what Mic has to offer. Here is an essay about how Efi Oladele was a missed opportunity for Overwatch, a deep dive into the issue of sexual harassment in Overwatch voice chat, an unintentionally hilarious infographic showing the most popular Overwatch characters in each state, a criticism of Blizzard's failures in its design of Symmetra and a dive into a cool trend on Tumblr that converts your most-played heroes into a psychedelic illustration.