'Monster Hunter XX' Nintendo Switch: Special edition console available from Capcom in Japan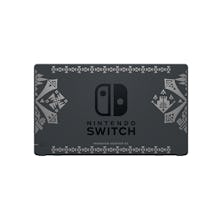 If you thought finding a regular Nintendo Switch in stock somewhere was difficult, try finding one of the Monster Hunter XX special edition Switches that have already sold out via Capcom's online store. In celebration of Monster Hunter XX landing on the Switch, Capcom has released a Switch dock emblazoned with Monster Hunter-centric imagery in Japan, and fans have already completely depleted the store's inventory. Talk about a disappearing act.
Monster Hunter XX Special Edition Switch: The first Nintendo Switch special edition
It's not surprising that this Monster Hunter XX Nintendo Switch sold out so quickly. It's the first Switch to feature unique artwork on its dock, or anywhere else on the device. Even though the Switch Joy-Cons themselves and the screen are bereft of any decoration, the system, which was available for 39,182 yen (about $352) flew off the digital store shelves via Capcom, and now it doesn't look like anyone is in luck when it comes to purchasing one. There's always eBay if you're dead set on getting one, of course, but be prepared to pay a premium since there's a paucity of the systems at present.
The bundle does come with a copy of the game, too, but for now, it looks like fans will have to be satisfied with purchasing the game when it finally releases. There hasn't been any news from Capcom on a release outside of Japan of the special edition Switch or the game at this point. However, given that Monster Hunter is a relatively big property still, it makes sense to hope for one of the systems to make its way to English-speaking areas in the future.
This could mark the beginning of several new special edition Nintendo Switch consoles. Splatoon 2's release will bring neon pink and green Joy-Con controllers, so we're already going a step in the right direction in that respect. 
Check out more Nintendo Switch news and coverage
Looking for more Nintendo Switch news? Check out how blind gamers are using the Nintendo Switch. Nintendo's left Joy-Con issue turns out to be a hardware problem — here's how to solve it. Find out how to buy a console amidst the recent restock. Learn why the Switch cartridges taste so bad. Check out our comparison photos sizing up the Switch to the Wii U GamePad (part one and part two), or find out how to make use of ethernet without the dock and the best way to get alerts when new stock arrives.