Manuel Noriega, former Panamanian dictator, dead at 83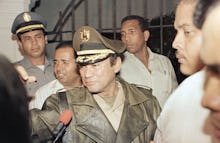 Panamanian president Juan Carlos Varela announced the death of the country's former dictator, Manuel Noriega. Noriega died at 83 years old. 
"The death of Manuel A. Noriega closes a chapter in our history; his daughters and his relatives deserve to bury him in peace," Varela wrote. 
According to the New York Times, Noriega died Monday night at Santo Tomás Hospital in Panama City. Due to complications after surgery on a benign brain tumor, Noriega had been in intensive care since March. 
Though dates vary, Noriega was most likely born in 1934. After attending a military academy in Peru, he joined the National Guard and he became a loyal aide to Gen. Omar Torrijos Herrera. When Torrijos died in a plane crash in 1981, Noriega seized control of the National Guard and was general by 1983.  
This story is breaking and will be updated.