Baghdad attack: at least 15 dead in car bombing, ISIS claims responsibility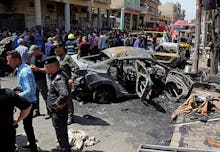 Fifteen people have been declared dead and 47 wounded after a car bomb exploded outside Alfaqma Ice Cream in Baghdad after midnight on Tuesday, NBC News reports.
According to ABC News, ISIS has claimed responsibility for the attack, which happened during Ramadan. During it, remotely detonated explosives went off inside a parked car. Because people do not eat during the day in Ramadan, restaurants and cafes are busier at night. 
According to Reuters, a few hours later, a second car bomb exploded near a government office in Baghdad. The second explosion killed seven people and wounded 38. No one has yet claimed responsibility for the attack. 
Iraqi Interior Minister Qasim Mohammad al-Araji indicated that Iraqi authorities would "track (ISIS) down wherever they may be," according to CNN. 
"They targeted a group of civilians; families, women and children in these nights of Ramadan and this is clear evidence that this organization is a terrorist one trying to kill civilians by any means," Mohammad al-Araji told journalists.
"Another terrorist attack on Karada, this district has paid more than its fair share of tragedy, enough is enough," former Iraqi ambassador to the U.S. Lukman Faily wrote on Twitter. 
ISIS still currently controls the northern city of Mosul, according to ABC News. However, an eight-month long military campaign is close to ending the caliphate.