Russians said they had potentially "derogatory" information on Donald Trump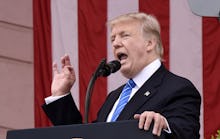 Russian officials said they had possibly "derogatory" information about President Donald Trump and his close aides which could be used to influence Trump, according to conversations United States intelligence officials intercepted during the 2016 presidential campaign, CNN reported Tuesday morning.
According to CNN's report, the information was "financial in nature" and the Russians believed it gave them "the ability to influence the administration."
CNN's sources privy to the intercepted conversations said that the Russian claims of "derogatory" information "could have been exaggerated or even made up," possibly one of the Russian attempts to spread fake news during the campaign. 
But mere fact that such conversation took place showed that Russia was considering how to impact the election, CNN reported.
The report could also increase calls for Trump to release his tax returns, given that the intercepted communications discussed possible financial ties. 
An unnamed White House spokesperson categorically denied CNN's report, saying it's "yet another round of false and unverified claims made by anonymous sources to smear the president."
Trump also tweeted Tuesday morning that the report was "fake news."
"Russian officials must be laughing at the U.S. and how a lame excuse for why the Dems lost the election has taken over the Fake News," Trump said in the tweet.
Yet the report also comes days after reports revealed Trump's son-in-law, Jared Kushner, tried to set up a back-channel line of communication with the Russians, and also met with a Russian banker with close ties to Russian President Vladimir Putin.