When will Nintendo Switch be available again? Scarcity blamed on component competition.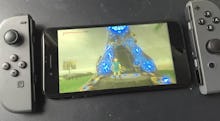 Restocks of Nintendo Switch supply haven't been as consistent as we would like. Stores like Best Buy, GameStop and Toys R Us occasionally have stock of the Switch. But when your Switch-less self isn't queuing up for hours outside hoping to win a chance at spending $300, you're sitting at home twiddling your thumbs wishing for the latest Zelda and Mario Kart. 
Why, you may ask, is Nintendo Switch stock so low in numbers? The reason: high demand for the Nintendo Switch's internal components.
Nintendo Switch Stock: Low supply can be pinned to smartphone makers pining for the same parts
Remove the Joy-Con controllers and what do you have? Just a regular mobile device.
Nintendo's Switch console is the closest thing to a modern tablet the company has ever released. The downside is that Nintendo is now competing with other mobile manufacturers to get the parts they need to build the Switch.
According to the Wall Street Journal, the Switch's components, like the vibrating motor inside each controller and the Switch's LCD screen, are in high demand, as is storage. The 32GB storage in the Switch isn't much capacity-wise, or so you may think, but the Toshiba flash memory cards are also used by Apple in the iPhone and other smartphones as well. 
A spokeswoman for Toshiba who was quoted by the Wall Street Journal said, "Demand for our NAND flash memory has been overwhelmingly greater than supply, and the situation is likely to stay for the rest of this year." 
But that isn't what Nintendo is saying. According to Financial Times, Nintendo is "targeting Switch hardware production of 18 million units for the 12 months ending March 2018." For comparison, Nintendo sold nearly 3 million Switch units in its launch month. 
Nintendo Switch Stock: When will Amazon, GameStop, Target and others receive more?
Nintendo may be interested in ramping up device production, but until then you'll need to stick to checking stock sites. Make sure that you read our guide to get alerts about all this stuff. And if you're dying to buy a console right away, GameStop usually has a bundle for you. 
Until Toshiba can whip up more flash storage for these devices, Nintendo will have to wait to ramp up production. It certainly sounds like a great reason for Nintendo to give their players proper cloud storage options when they ship their online service. 
Check out more Nintendo Switch news and coverage
Looking for more Nintendo Switch news? Check out how blind gamers are using the Nintendo Switch and why you can't get your Mii to look quite like you. Nintendo's left Joy-Con issue turns out to be a hardware problem — here's how to solve it. Find out how to buy a console amid the recent restock. Learn why the Switch cartridges taste so bad. Check out our comparison photos sizing up the Switch to the Wii U GamePad (part one and part two), or find out how to make use of ethernet without the dock and the best way to get alerts when new stock arrives