Trump says Germany is "very bad for US," days after German chancellor laced into Trump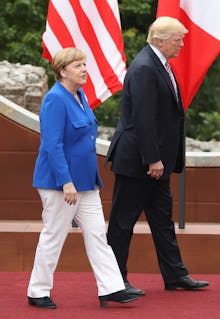 President Donald Trump picked a public fight with Germany on Tuesday, tweeting that trade deals with the European country are "very bad for U.S." and that they "will change."
"We have a MASSIVE trade deficit with Germany, plus they pay FAR LESS than they should on NATO & military," Trump tweeted. "Very bad for U.S. This will change."
Trump's tweet came after meeting with European Union leaders, including German Chancellor Angela Merkel, while he was traveling overseas. 
A report from German media said Trump told top European Union officials that Germany was "bad" or "evil" because of their trade deals with the U.S. — according to a translation from Der Spiegel. 
White House press secretary Sean Spicer tweeted the Der Spiegel account was "not true" — though Trump's Tuesday tweet directly contradicts that denial.
Trump's public attack on Germany also comes after Merkel said Germany can no longer "completely depend" on the U.S.
"The times in which we could completely depend on others are on the way out," Merkel said on Sunday. I've experienced that in the last few days."
Foreign policy experts expressed concern over the apparent deterioration of the relationship with one of the United States' best allies and biggest economies in the world.
"Merkel saying Europe cannot rely on others & needs to take matters into its own hands is a watershed — & what U.S. has sought to avoid since WW2," Richard Haass, president of the Council on Foreign Relations, tweeted.