Artist seeking to "downgrade" feminist statue says it's not about feminism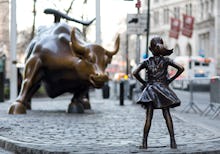 Months after Fearless Girl's installation, the statue continues to cause controversy. The latest case comes from New York City artist Alex Gardega, who placed a statue called "Sketchy Dog" next to Fearless Girl on Monday, according to NBC. 
Raising its leg as if to pee on Fearless Girl, Gardega's dog — and its purposeful, shoddy construction — was not "anti-feminist," as he told NBC, but meant to make a statement: Gardega sees Fearless Girl, which has been stationed opposite Wall Street's Charging Bull statue since International Women's Day in March, as an affront to an iconic sculpture.
"I decided to build this dog and make it crappy to downgrade the statue, exactly how the girl is a downgrade on the bull," Gardega told the New York Post, adding that Fearless Girl represents "disrespect to the artist that made the bull. That bull had integrity."
The Fearless Girl has had her share of criticisms: The artist behind Charging Bull, Arturo Di Modica, also takes issue with Fearless Girl deeming it an "advertising trick" and is pursuing a lawsuit against New York City officials for copyright infringement. Intended to symbolize the need for more women working in finance, a historically male-dominated field, Fearless Girl has also been criticized as a symbol of corporate feminism because its installation was funded by State Street Global Advisors, an investment firm. 
It has also been defaced on a few occasions, theatrically humped by a drunken bro and later decked out in Make America Great Again gear.
For his part, Gardega described his dog statue almost urinating on a statue of a little girl as an artist's statement. He has "nothing against" Fearless Girl's sculptor, Kristen Visbal, he told the Post, but believes her statue has "nothing to do with feminism."
According to NBC, Gardega took away the statue around 12 p.m. on Monday, after just three hours on display. Gardega said "most people were amused or perplexed by it," but on Twitter, critics were harsher. 
"Aggrieved man, alarmed by popular statue of a girl, adds peeing dog for attention/to soothe his ego," commented one user.