From jean upkeep to finding the right fit, 7 of your most pressing questions about denim, answered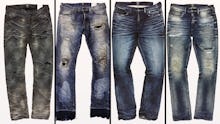 Just about everybody owns it, yet few know how to take care of it. Of course we are talking about denim. Through its history as a working-man's textile as early as the 17th century all the way up to becoming a fashion girl's must-have courtesy of Brooke Shields in the 1980s, denim has been one of the few textiles to always remain in vogue. 
A well-fitting pair of jeans is a wardrobe essential for any gender, any age and just about any socioeconomic status. But despite their ubiquity, a lot remains unknown when it comes to their upkeep. How to wash them, if to wash them, and how long to keep them are just a few of the many unknowns.
To get some answers to our burning questions about denim care, we consulted Donwan Harrell, designer and founder of PRPS jeans, a New York-based luxury denim brand founded in 2002. 
Harrell, a former Nike designer who's worked under Joseph Abboud and Donna Karan, is putting denim rumors to rest in an effort to get the lifetime wear expected from a quality pair of jeans.
Mic: How many wears before washing?
Donwan Harrell: I would say don't wash your denim until about two years of wear. That may seem like a long time to some people, but if you take proper care of them in between, dry cleaning, spot cleaning — you shouldn't have to. You want to build enough personal character on your jeans before you decide to wash that down. I do recommend washing at some point, I'm not anti-washing, but it takes a long time to get your own whiskers and character ingrained in your denim and after two years washing will brighten up the original character instead of deterring from it. 
Is putting jeans in the freezer legit?
DH: I think spraying them with Febreeze and letting them hang outside your window is the better way to deodorize your denim than freezing them. A deep freeze may kill any germs but the smell can linger on and on.
Should one ever dry clean their jeans?
DH: Yes! Professional dry cleaning is the best way to care for your denim.
Why is denim worth spending more on?
DH: Well, selvedge is the most obvious type of denim worth spending your money on. Typically, a selvedge jean requires many more yards of fabric than your average pair because only the ends of the yardage are used to create each pair. 
The second thing to pay attention to is how the denim is dyed. Dying can be a very painstaking technical process that most people are not aware of. Denim can sometimes be dipped 16-20-50 times to get the correct intensity of indigo saturation in the cotton. 
Then third, there's how the denim is cut. If they stack it up and cut through 30 or 50 pairs at a time versus cutting a bespoke style one at a time, that adds value. Where the cotton is grown is also important, does the cotton come from mass production supply or is it grown especially for denim in somewhere like Zimbabwe. If you are investing in a pair of expensive denim, do your research first.
How can folks better find the right fit for them?
DH: Try. Them. On. Women will go shopping and enjoy the event of trying on clothes. Men want to go in and buy based on what has worked in the past. But it is so important to try on every pair. Every fit, every wash, every technique influences how the denim lays on the body. And I would recommend sizing a bit down when buying because denim does stretch after a few wears.
How long should a pair of jeans last if properly upkept?
DH: A lifetime. Jeans don't disintegrate unless you're on a farm or working a down and dirty job that puts a lot of stress on your clothing. People buy based on colors, fit, and style and the need to update your wardrobe. There are new situations for jeans all the time these days, you need a blue jean, a black jean, a dressy jean, a jean for work, a summer white jean — denim has become a staple of our closets, we live our lives in it. With proper care they can last a lifetime.
What are 5 things everyone can do to actively be taking better care of their denim?
DH: 1. Only dry clean your jeans.
2. Febreeze works surprisingly well on denim to deodorize them.
3. If you spill something on them and absolutely must wash them, turn them inside out and wash in cold water on a short cycle.
4. To get simple spot stains out like splatter from pasta sauce, wet wipes work wonders. I discovered this when we were using wet wipes all the time when my son was first born. But blot — don't wipe to avoid leaving a white spot on your denim.
5. Always, always fold your jeans right when you take them off. There's nothing worse than leaving them crumpled on the floor and then going to put them on again only to find they are a wrinkled mess.