7 movies from the 2017 Cannes Film Festival that everyone is talking about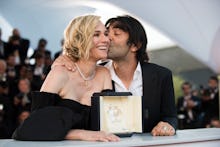 The 2017 Cannes Film Festival came to a close over Memorial Day weekend, and left in its wake a long list of films that may go on to dominate the rest of the 2017-2018 awards season.
While many of said films were anticipated to garner significant attention at the world-renowned festival, there were a few standouts that took audiences by surprise this year.
It's not always about who wins the top-tier awards. Sometimes films that receive negative attention at Cannes go on to perform exceedingly well both critically and at the box office. Or, conversely, the festival can turn an actor who had been seen in a number of box office bombs into a critical sensation overnight.
Whether it's for the film overall or one particular actor's performance in it, here are seven films from the 2017 Cannes Film Festival that have received the most buzz.
Despite being booed at the start — which really had more to do with the festival's conflict with Netflix than anything else — Okja went on to receive a four-minute standing ovation. It also received rave reviews from the critics. Although it didn't leave with awards, it is now most definitely on the radar of films to look out for this year.
Aside from the fashion that turned heads at its red carpet premiere, The Beguiled is on this list because of its writer-director Sophia Coppola. Coppola took home the best director award this year at Cannes, becoming the second female director in history to do so. While she wasn't there to receive the award herself, Maren Ade imparted some lovely words to the audience on her behalf.
"I'm thankful to my great team and cast and to Focus and Universal for their support of women-driven films," the Hollywood Reporter reports Coppola said in a statement.
Ruben Östlund took home Cannes' top prize — the Palme d'Or — for his film The Square. The announcement created a bit of a stir considering it didn't receive as much critical acclaim as some of the other films in competition. But, hey, that's what makes these festivals exciting, right?
Here's another film that had been brought by Netflix. While it didn't win any awards at Cannes, it garnered significant attention. The somewhat surprising reason for that attention is Adam Sandler. Critics raved so much about his performance in the off-beat comedy about an estranged, Jewish family that it was thought he might win the best actor prize. He didn't, but that doesn't mean there won't be more prestigious recognition for him down the road.
The film about a war veteran saving a girl from sex trafficking had some buzz around it before the festival, but then its star Joaquin Phoenix, much to his surprise, won the best actor prize. Phoenix apparently accepted the award in sneakers, because he was so sure he wouldn't have to go up on stage.
Diane Kruger took home the best actress prize at Cannes for In the Fade. In the film her character explores the depths of grief as a mother who loses her family in a bombing. The film received pretty decent reviews overall, but Kruger's performance looks like it may push it towards more glory in the coming months.
It may not have had many known stars attached to it, but Loveless became a critic favorite at Cannes this year, and even snagged the jury prize. Granted, it may be a bit arty to be a box office smash, but that doesn't mean it won't make a splash at many more film competitions over the next year.
Mic has ongoing Cannes coverage. Check out our main Cannes hub here.