'Tekken 7' Preload and Release Time: How to start playing as soon as possible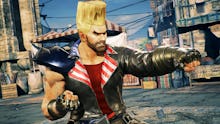 One of the best things about this generation of consoles is that you don't need to own discs anymore. You can download every single game, never needing to worry about waiting in line at a store or refreshing an Amazon order's tracking page. 
Yes, download times can be long, but the PS4 and Xbox One both let you preload games before release — and Tekken 7 is no exception.
When and how to preload Tekken 7
Tekken 7 doesn't have an official preload time yet, but as a general rule of thumb, you can typically do it a couple days before launch. If you've pre-ordered the game on the PlayStation or Xbox digital storefronts, go there and see if there's a download button. If there isn't, check back in a day or two.
As far as when you can actually play the game, look at Horizon Zero Dawn as an example: Digital pre-orders became playable at midnight Eastern — or 9 p.m. Pacific — on the day of release. Since Tekken 7 is officially out on Friday, June 2, the digital version should unlock no later than midnight in your time zone. If you digitally pre-order the game, the store page should tell you when it will be playable. 
You might need to clear out some space, as the game is 41GB, according to Express. Once the download is taken care of, you can get down with all the volcano-throwing action you desire.
More video game news and coverage
Check out more video game content on Mic. Including which Pokémon are actually the best and why black players can never seem to get custom characters that look like them. Learn more about how blind gamers are getting in on the fun and that Injustice 2 appears to be nerfing its female characters. See why we love Twintelle (and why we hate Twintelle) in the upcoming Arms, and don't miss our guide to dodging blue shells in the Mario Kart 8 Deluxe — you can thank us later.