'Overwatch' Season 5 Start Date and Time: Here's when you can get back to competitive play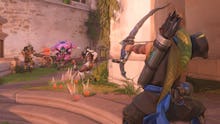 Overwatch season four just finished and players are already itching to climb up the ranks again. Luckily, season five is just around the corner — in fact, this will be the shortest time between two seasons in Overwatch's brief history.
Here's what you need to know about the Overwatch start date and time so you're ready to go.
Overwatch Season 5 start date and time
According to Express, the new season of competitive will begin on May 31 at 8 p.m. Eastern.
The rewards for this season have also been announced as Numbani-themed. Although you'll have to enter the Top 500 rank to get this animated spray.
Don't forget to check out the Anniversary event — competitive play will always be there, but those skins are fleeting.
More Overwatch news and updates
For more on Overwatch, check out the rest of what Mic has to offer. Here is an essay about how Efi Oladele was a missed opportunity for Overwatch, a deep dive into the issue of sexual harassment in Overwatch voice chat, an unintentionally hilarious infographic showing the most popular Overwatch characters in each state, a criticism of Blizzard's failures in its design of Symmetra and a dive into a cool trend on Tumblr that converts your most-played heroes into a psychedelic illustration.