You won't believe how your favorite celebrities celebrated Memorial Day weekend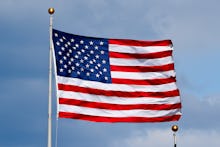 The stars got extra celebratory this Memorial Day weekend. Thanks to Instagram, fans got an inside look at exactly how their favorite celebrities like Reese Witherspoon, Chris Hemsworth and Katy Perry spent their weekends. 
From partying with friends, to performing at concerts and getting back to their country roots (looking at you, Miley Cyrus), these celebrities went all out for the holiday. 
Here's how your favorite celebrities celebrated Memorial Day weekend:
Sofia Vergara
The Modern Family star posted this adorable video of her getting ready for the party she was throwing over the weekend. "Almost ready for tonight's Memorial Day Paraiso Tropical partyyyyyy," Vergara captioned the photo. 
The rest of the Modern Family cast showed up to the party and, by the looks of it, everyone had a wild time.
Ashley Graham
Leave it to Ashley Graham to show everyone else how to do it. The model slayed everyone when she posted this sultry photo on Instagram with the caption "Prepping for Memorial Day weekend like."
Miley Cyrus
Miley Cyrus got in touch with her country roots over the weekend, posing beside a mural of Johnny Cash. 
Nicky Hilton
Nicky Hilton spent some quality family time over the weekend and shared this adorable photo of her daughter Lily Grace. 
Vanessa Hudgens
Vanessa Hudgens and her friends posed for their lives while celebrating the holiday poolside. 
Chris Hemsworth
Thor: Ragnarok star Chris Hemsworth spent the weekend in Monaco with Matt Damon and we're sure things got extra wild with these two.
Reese Witherspoon
No one does a holiday quite like Big Little Lies star Reese Witherspoon, who was adorably dressed for the occasion and brought cupcakes to the party. 
Camila Mendes
Riverdale's Camila Mendes, who plays Veronica Lodge on the series, kept things low-key and opted for a casual matcha date. 
Bella Hadid
As expected, the models outdid everyone else on Memorial Day weekend. Bella Hadid and Winnie Harlow served up some major glamor for the big holiday. 
Katy Perry 
Not everyone was partying. While others were playing poolside or sipping on some drinks, Katy Perry spent the weekend performing at Radio 1's Big Weekend concert.
Lea Michele
New best friend alert: Lea Michele and Hilary Duff partied it up over the weekend.
Neil Patrick Harris
Neil Patrick Harris, Howard Stern and Jerry Seinfeld are probably part of someone's dream dinner guest list. Well, it happened over the weekend when they all got together. 
Mic has ongoing celebrity coverage. Please follow our main celebrity hub here.