'Pokémon Stars' Switch Release Date Rumors: Game Freak job posting suggests it could come to 3DS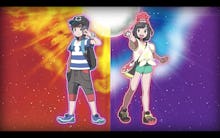 Debate continues to rage about Pokémon Stars, the unofficially hinted-at Pokémon game that may be coming to Nintendo Switch. We say "may" be coming to Switch because recent reports suggest Game Freak may actually be developing a new Pokémon game for the Nintendo 3DS instead.
Keep reading if you'd like more details about what, exactly, people think is going on with Pokémon Stars and the Nintendo Switch.
Pokémon Stars Switch: Game Freak job posting focuses on 3DS development 
According to Segment Next, the next Pokémon game might be coming to the 3DS after all. This job posting from Game Freak — previously spotted by Game Reactor — shows that Game Freak is looking for employees to work on a 3DS role-playing game. It doesn't offer many details, but it's not unreasonable to think this could be the next Pokémon title.
If that's the case, Pokémon Stars might not be a Switch game — though the game has yet to be officially announced for any platform. However, given that Monster Hunter XX is promising multiplayer compatibility between Switch and 3DS, it seems weird to write off a Switch release for Stars entirely. 
Game Freak has a storied tradition of making companion games for each generation of Pokémon. So if Stars ends up as a companion game to Sun and Moon, seeing it released for both Nintendo Switch and 3DS is not outside the realm of possibility. Additionally, Game Freak was also looking for someone to work on a new console game, so it's not like it's all forgotten based on this news.
However, whether you're holding out for a Nintendo Switch release or just any announcement at all, chances are good you've got some time to wait. Regardless of what job openings Game Freak might post, without official release news we don't know where — either at E3 2017 or elsewhere — or even when it might happen. As with most rumors, it pays to take such speculation with a grain of salt until proven otherwise.
More Pokémon Stars news and coverage
Read more coverage on the rumored Pokémon Stars, including Nintendo's comments on the potential Switch game and news about Game Freak putting up the Now Hiring sign. Watch how well Sun and Moon could translate to Switch if it was a thing or how the game may not even arrive until next year. Or if you'd rather live in the now, read about Pokémon Go instead.