George Takei has the perfect response to racist and sexist 'Star Trek: Discovery' comments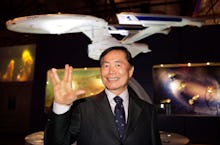 Nothing is ever safe from the grubby paws of Internet trolls — not even Star Trek: Discovery. After a trailer for Discovery dropped in early May, an overwhelming amount of racists and sexists began tearing apart the show's decision to feature two women of color in lead roles. Chinese Malaysian actress Michelle Yeoh plays Captain Philippa Georgiou, while Sonequa Martin-Green plays First Officer Michael Burnham. 
One superfan with a long memory justified his sexism with a scene from the original '60s Star Trek series, in which Captain Kirk stated that "it is forbidden for a woman to command a starship." Another decried the show's diversity by declaring, "enough with your racial and gender quotas Hollywood." Yet another called the creators of the show "autistic liberal faggots." 
George Takei, who played Sulu in the original series, is having none of it. The Broadway star and prolific Facebooker appeared Sunday on MSNBC's AM Joy to loudly clap back at Discovery haters. 
"Today in this society, we have alien life forms that we call trolls," he said. "And these trolls carry on without knowing what they're talking about and knowing even less about the history of what they're talking about."
Now these so-called trolls haven't seen a single episode of the new series, because it hasn't been aired... And they don't know the history of Star Trek … [Star Trek creator] Gene Roddenberry created this with the idea of finding strength in our diversity and also the delight of life in diversity.
Check out the Star Trek: Discovery trailer below.
Mic has ongoing television coverage. Check out our main TV hub here.