Pig body parts on 9 5-foot-tall spikes found in future mosque site in Germany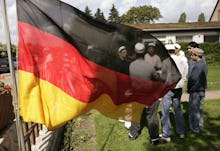 An unidentified person or group walked onto the construction site of a mosque in Erfurt, Germany, and planted the remains of a dead pig on nine spikes.
The pig's bowels, head and feet were on top of five-foot-tall spikes, the Associated Press reported. Islam prohibits Muslims from consuming pork, and people with hatred toward Muslims have been weaponizing pigs in the last several years.
"While such acts do not make us lose our composure ... we find it very sad that people go down to such a level," Mohammed Suleman Malik, a spokesman for the Erfut community, told AP.
Malik also tweeted photos of the anti-mosque attack:
"Horrific attack: mosque opponents have impaled wooden stakes on the construction site of the planned mosque in Erfurt Schweineköpf," Malik tweeted.
There have been a series of protests targeting the site of a proposed Ahmadiyya mosque. According to AP, mosque protesters once put up Christian crosses on an adjacent lot.
Ahmadiyya Muslims are a persecuted minority in Islam. The sect was founded in India in 1889, and is often believed to be "heretical" by other factions of Islam. Despite their plight, the official motto for the Ahmadiyya community is "Love for all, hatred for none." In August, over 30,000 Ahmadiyya Muslims marched against ISIS in the United Kingdom.