Muslim man alleges discrimination on Delta Air Lines flight: "I feel stepped on and humiliated"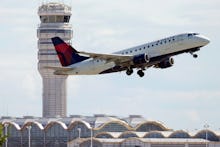 Yassine Siqal, a Moroccan-born Muslim man, said a Delta Air Lines flight attendant racially profiled him on his flight back to New York City.
"As a human being, I feel stepped on and humiliated," Siqal told New York Daily News.
Siqal told NYDN that while returning home from a visit in North Carolina with his fiancée, he was falling asleep when a flight attendant snapped at him. She allegedly told Siqal to move to an empty row across the aisle. Siqal said he refused to leave his assigned seat because he wanted to stay next to his fiancée.
The same flight attendant, according to Siqal, questioned him earlier to see if he felt alright when she saw him yawning. He explained to her that all was well and he was just tired. 
After landing, Siqal left the plane and was interrogated by the police for about 40 minutes. When Siqal said he would be missing his shift as a restaurant server, the police refused to let him leave.
"I will never forget this day," Siqal said. "All this interrogation, all these questions. Then the police officer realized that this is nothing more than just discrimination against color and race."
His fiancée, Darejan Gogiberidze, a cancer researcher at Mt. Sinai Hospital, said Siqal was acting normal on the flight. She said she believes he was being discriminated against on the basis of religion and race.
"It was embarrassing to be in that situation and for doing what?" Gogiberidze said. "Yawning and sleeping on the airplane, or just for being a Muslim?"
According to NYDN, Delta released a statement defending its decision. "Our crew, operating Delta Connection flight 5378 from Charlotte to New York City, made the decision to contact law enforcement officials based on their observance of concerning behaviors by the passenger toward his seat companion, including physical actions and verbal tones," the statement read.
ExpressJet operated the Delta Air Lines flight Siqal was on and also released a statement:
At ExpressJet, we train our crews to use their professional experience and practice best judgment to ensure the safety of all of our customers. While we regret the inconvenience caused to the passengers, the safety and security of everyone on board is our top priority and cannot be compromised.The circumstances surrounding this event are still under investigation.
But Siqal's attorney, Marc Albert, said Siqal is still planning to pursue legal action against Delta Air Lines. 
"He does not want this to happen to others and he thinks it's disgraceful that he and his girlfriend had to go through it, and he wants Delta to investigate what happened and acknowledge that it did happen," Albert said.