1 dead after Quinault tribal members were run down by man in pickup truck at Washington campground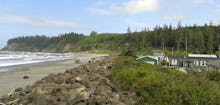 Law enforcement officials are seeking a man in a white pickup truck who allegedly ran down two members of the Quinault Indian Nation over Memorial Day weekend, according to multiple reports.
One of the victims, 20-year-old James "Jimmy" Kramer, died of his wounds Saturday night. His friend, 19-year-old Harvey Anderson, was released from Tacoma General Hospital on Sunday.
The incident occurred Saturday morning at a campground off Donkey Creek Road, near Hoquiam, Washington, just over 100 miles southwest of Seattle. Witnesses said a white male in his 30s driving a white Chevrolet pickup truck pulled onto a gravel bar around 1:30 a.m. and started doing "donuts," spraying debris in the camping area.
Kramer, Anderson and other campers reportedly yelled for the driver to stop. The driver responded by targeting individual campers, driving over Kramer and Anderson before fleeing into the night. Police do not have a suspect yet. In a press release, the Quinault tribe said the driver was heard "screaming racial slurs" as he drove, according to Last Real Indians.
"Our entire tribe is distraught over this incident," tribal President Fawn Sharp  said. "If it is, in fact, determined that this was a hate crime it will add even more distress and sadness to our loss of this outstanding young man and the injury of the other."
Kramer, the deceased, was a commercial fisherman and father of twin toddlers, the Seattle Times reports. He was reportedly at the campground celebrating his 20th birthday with his friends, including Anderson. Larry Ralston, the Quinault tribal treasurer, said in the press release that Kramer died trying to push Anderson out of harm's way.
"Jimmy died a hero," Ralston said.
The Quinault tribe has disputed some media accounts of the incident. Most notably, tribal officials said reports that a rock was thrown at the truck before the driver started targeting campers are false. Tribal officials also called for a charge of first-degree murder if the suspect is apprehended, saying there was "no excuse or defense to this unthinkable tragedy."
The Quinault Indian Reservation encompasses just over 200,000 acres of Pacific coastline on the southwestern corner of the Olympic Peninsula. According to the North Coast News, Kramer lived in the Quinault town of Taholah, while Anderson lived in nearby Aberdeen.