Chance the Rapper won't be running for office anytime soon, despite public demand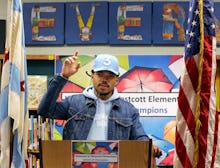 Ever since Chance the Rapper stood up to Illinois Governor Bruce Rauner demanding public school funding reform, a significant portion of the internet has wanted to see Chance become more than just a rapper. An April viral campaign #ChanoForMayor asked Chance to consider running for his city's highest office to "send a message that Chicago is ready for a new generation of leadership." 
Friday, in a snippet of Ebony's new June 2017 issue, Chance responded to the call, saying definitively: "never."
"I would never run for any office or government position," Chance the Rapper told Ebony. "I'm not into it. I think politics is a reason why a lot of stuff doesn't get done. There's a lot of favors, and a lot of people are held back by their intentions of being re-elected or the things that they owe their party or constituents. I think when you're in my position as an artist, I can say what I want and talk about the issues that matter."
His answer shouldn't surprise many people. The rapper raised the same concerns with the political process around the time of his conversation with Illinois governor. 
"Governor Rauner still won't commit to giving Chicago's kids a chance without caveats or ultimatums," Chance said during a March press conference in which he donated $1 million to Chicago Public Schools. "Our kids should not be held hostage because of political position."
Chance has managed to generate a surprising amount of political energy nonetheless, without a seat in a government. In November, he led thousands to the polls in downtown Chicago, helping the city break early voting records. He met with former president Barack Obama to discuss My Brother's Keeper Alliance, an initiative looking to close the achievement gap for young black men.
There are plenty of other entertainers willing to step up to the political podium in Chance's stead. Kanye West has yet to retract his promise to run in 2020, though out of respect for our current celebrity president Donald Trump, he may push to 2024. In a GQ article, Dwayne "the Rock" Johnson declared "it's a real possibility" he runs for president one day. Killer Mike of Run the Jewels attempted to run for the Georgia House of Representatives in 2015 as a last minute write-in to draw attention to the race. He plans to do so again at a later date.
Let those celebrities duke it out with politicians for that small glory of public office. Chance the Rapper will continue fighting for his city and winning from the outside.
Mic has ongoing music coverage. Follow our main music hub here.