'Pokémon Go' Update: Next event teased to introduce legendaries, PvP battles and more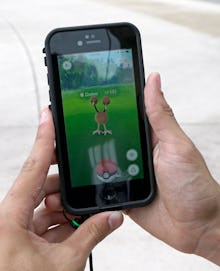 If you want news about Pokémon Go, you have to be prepared to look in some weird places. Niantic CEO John Hanke hinted at both regional Pokémon migrations and big updates like a gym overhaul in a series of interviews he conducted with Wired Germany, for instance. Additionally, Niantic loves placing teasers into their speeches in awards shows as well, if the hint to "save your candy" at the DICE Awards and the promise that the summer would be legendary at the Webby Awards is any indication.
Now there's a new morsel of what's to come for Niantic's hugely popular mobile game, courtesy of a Brazilian newspaper and some diligent translating. Read on for more info about the next Pokémon Go update.
Pokémon Go update: Next event gets teased
The Brazilian newspaper O Globo recently published an interview with Niantic's vice president of Strategic Partnerships, Mathieu de Fayet. Although the interview was in Portuguese, some diligent translators on the Silph Road were more than happy to provide a transcript.
The most important tidbit provided by the interview comes about halfway through, when O Globo asked Fayet about how to keep people interested in the game.
Q: 'Pokémon Go' has been downloaded 650 million times, but now it has 65 million active players. How do you keep players interested in the game? A: Due to the large success of the game, we had to delay some planned innovations. Right now we are working on some that are due to hit this summer (in the Northern Hemisphere), such as giving more value to the choice of the teams, releasing Legendary Pokémon and introducing PvP. One thing we learned with Ingress was that the game can sustain itself if we are able to create social interactions amongst players, and we are working on that.
Although everything Fayet mentions — PvP, choice of teams having a greater value on play and legendary Pokémon — is content that fans have long been speculating about, his point that the game can sustain itself if a social element is introduced is an intriguing wrinkle. Additionally, it's exciting to hear Fayet talk about all three of these big events under the blanket of "hitting during the summer" since these are all improvements fans assumed would be meted out over the course of 2017 as a whole.
Of course, this is all speculation until those events actually drop, but it's exciting nonetheless, and should give Pokémon Go fans more than enough to look forward to for the summer.
More Pokémon Go news and coverage
If you're just booting up your Pokémon Go account, check out our first impressions of the Gen 2 update. You'll also want to learn more about the Unown and new evolutionary items like the Sun Stone and more. If you're looking for a list of evolutions that weren't initially revealed by Niantic, this article is your guide. 
If you're more interested in the main games, here's the latest on a possible Pokémon title on the Nintendo Switch: Pokémon Stars. And if you're itching to learn about the other mobile Nintendo games, check out our coverage of Fire Emblem Heroes and Super Mario Run.