Essential 'Wonder Woman' Reading: Comic book stores say these are the stories you must check out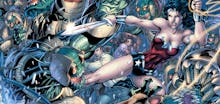 In October 1941, comic book readers were introduced to by far the most popular heroine of all time: Princess Diana of Themyscira, aka Wonder Woman. Appearing for the first time in the third story of All Star Comics #8, Wonder Woman has gone on to become one of the most important superheroes in literary history. Yet despite her icon status, the character has never appeared in a solo live-action film. In fact, her only solo film to date is Warner Bros. Animation's 2009 direct-to-video flick, Wonder Woman — which is quite good, by the way. 
It was not until 2016's Batman v. Superman: Dawn of Justice that Wonder Woman made her first appearance in a live-action film, gracing the screen for just seven minutes. Batman v. Superman was largely dismissed by critics, but few found fault in Gal Gadot's sturdy performance as Wonder Woman. Now, more than 75 years after she first hit newsstands, and with Gal Gadot reprising her role, Wonder Woman is powering her way to the big screen in her own live-action blockbuster. 
Directed by Patty Jenkins, the new Wonder Woman film is receiving considerable buzz, and with a 92% on Rotten Tomatoes, is easily the best-reviewed film in the DC Extended Universe to date. For those who want to familiarize themselves with Wonder Woman before heading to the theater, Mic recently communicated over email with staffers at some of the most notable comic books shops in the country, to get recommendations on which Wonder Woman stories are must-reads.
Wonder Woman: The Hiketeia
One of the great things about comic books is that there is nearly an endless supply of stories. Unfortunately, this can also make it very difficult for a newcomer to find an appropriate entry point. What would make for a good introduction to Wonder Woman? Danielle Lorick, an employee at Manhattan's Forbidden Planet told Mic that new readers should look to Wonder Woman: The Hiketeia, written by Greg Rucka with art by J.G. Jones. 
As a standalone story, The Hiketeia is a graphic novel that fresh-eyed fans can jump into with little background knowledge. In it, Wonder Woman finds herself at odds with Batman after she swears an oath to protect a young woman, who happens to be a fugitive from justice after she kills the criminals responsible for murdering her sister. Lorick recommends the one-shot for two reasons: the captivating cover ("Wonder Woman's boot on Batman's head") and because "it serves as an excellent introduction to Wonder Woman's culture and morality."
Wonder Woman by George Perez Vol. 1
Over the years, Wonder Woman has been penned by some pretty iconic authors and artists. Likely none have left the same lasting impact on the character as writer-artist George Perez. Benn Ray, co-owner of Baltimore's Atomic Books, told Mic that he feels Perez's Wonder Woman is a must-read for any fan of the character. Issues one to 14 from Perez's run with Wonder Woman are featured in the trade paperback Wonder Woman by George Perez Vol. 1. 
The first seven issues from Perez's tenure were initially collected in Wonder Woman: Gods and Mortals, which some consider to be the defining origin story for the Amazonian princess. Gods and Mortals sees Wonder Woman take on the Greek god Ares, who looks to feed off of the conflict of war. Gods and Mortals also served as the inspiration for Diana's origin as it's portrayed in the 2009 animated film.
Picking up where Gods and Mortals left off, the next seven issues from Perez's run were initially compiled in Wonder Woman: Challenge of the Gods. That collection features the first appearance of one of Wonder Woman's most enduring adversaries: Barbara Ann Minerva, aka Cheetah. If both Gods and Mortals and Challenge of the Gods sound like intriguing reads, you should opt for Wonder Woman by George Perez Vol. 1, which collects both.
Wonder Woman Vol. 1: Blood
For fans that are already familiar with Wonder Woman, or would prefer to take on a longer-running arc, there are obviously plenty of options to choose from. Danielle Lorick sends these fans to Brian Azzarello's run, beginning with Wonder Woman Vol. 1: Blood. "It's the shining star to come out of the New 52 [reboot], with plenty of action and drama," she explained. "It's the perfect piece both for people who aren't sure how they feel about Diana yet [and also for] the classic fan." 
Perhaps what is most interesting about Azzarello's take on Wonder Woman is how he re-imagines Diana's origin. For most of Wonder Woman's history, she is told that Zeus brought her to life from clay. In the New 52, Wonder Woman learns that she is actually the natural-born daughter of Zeus, making her a demi-goddess.
Azzarello's Wonder Woman run extends for several arcs, continuing with the following trade collections: Wonder Woman Vol. 2: Guts; Wonder Woman Vol. 3: Iron; Wonder Woman: Vol. 4: War; Wonder Woman: Vol. 5: Flesh and Wonder Woman Vol. 6: Bones. Lorick recommends reading the entire run, as "[Cliff] Chiang's art is sharp and stunning, and [it] stays relatively standalone, often opting for a strong Diana story instead of referencing New 52 events as a whole."
Wonder Woman Vol. 1: The Lies
Since Wonder Woman is a character with so much history, perhaps it is better to start with her most recent collection of stories. Adam Parker, an employee at Los Angeles' Meltdown Comics, told Mic that he recommends readers get to know Wonder Woman through DC's ongoing Rebirth initiative (yes, that's yet another universe-wide reboot). For Rebirth, Greg Rucka returns to the character after previously writing Wonder Woman: The Hiketeia and later having a popular run with the character in the early 2000s. 
DC has recently released the first two trade collections of Wonder Woman: Rebirth, and, according to Parker, "each covers the character in a different era of her life — the past when she first came to our world and her present." The two trade collections currently available are Wonder Woman Vol. 1: The Lies, taking place in the present, and Wonder Woman Vol. 2: Year One, exploring Diana's past.
In The Lies, Wonder Woman must find her way back to Olympus and Themyscira and turns to an unlikely source for help: Cheetah. Steve Trevor also features prominently in this story — appropriate, considering he has always been the Lois Lane to Wonder Woman's Superman. (Trevor, played by Chris Pine, will also feature heavily in Jenkins' Wonder Woman.)
Wonder Woman Vol. 2: Year One
Wonder Woman Vol. 2: Year One, the second trade collection from Wonder Woman's Rebirth arc, tells a story entirely in the past. For those looking to catch up with the most recent telling of Wonder Woman's origin, Henry Varona, marketing assistant and events coordinator of Manhattan's Midtown Comics, told Mic that the "Year One storyline from DC Rebirth is an incredible way to jump into the character."
"Famed Wonder Woman scribe Greg Rucka examines the early years of Diana, focusing on her struggles to acclimate with 'Man's World,'" Varona wrote. "[Year One] allowed for Rucka to bring back some classic elements of the character with a modern lens, and captivated a brand new audience as well."
Wonder Woman: The True Amazon
Midtown Comics' Henry Varona added that when discussing Wonder Woman's most iconic stories, "it'd be impossible not to mention the incredible work of Jill Thompson on her Wonder Woman: True Amazon original graphic novel." Much like Wonder Woman: The Hiketeia, The True Amazon is a standalone graphic novel, allowing readers to dive in without having to worry about nearly eight decades of backstory.
"Set outside of the normal continuity, Thompson masterfully paints a full novel and examines the early years of the young princess, showing her development throughout adolescence," explained Varona. Thompson, an Eisner Award winner, wrote and illustrated The True Amazon, which, unlike most Wonder Woman stories, portrays Diana as a heavily flawed character. She's written as spoiled and lacking humility, forcing her, for perhaps the first time, to learn what it takes to become a hero.
Wonder Woman: The Circle
To echo Varona's point regarding The True Amazon, any conversation about essential Wonder Woman stories would not be complete without highlighting Gail Simone's run with the character. Simone, who is Wonder Woman's longest-running female writer, began writing for the series in 2007, and her first story arc is collected in Wonder Woman: The Circle.
"Gail Simone had a phenomenal run on the character, working on Diana's adventures for years," Varona wrote. "With art from the likes of Nicola Scott and Aaron Lopresti, Simone examined [Diana's] struggle to balance a life amongst the citizens of the world and as a hero championing for them."
For a preview of how the Wonder Woman mythos will translate to the big screen, you can watch the trailer below, and look out for the film when it's released in theaters nationwide on June 2.
Mic as ongoing coverage of Wonder Woman. Please follow our main Wonder Woman hub here.