'Pokkén Tournament' Switch Port Release Date: Accessory listing hints at possible launch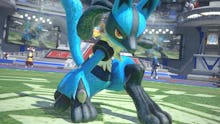 The Pokémon Stars release date on Switch remains a mystery, at least until E3 2017, but we may see Pokkén Tournament on the Nintendo Switch before then. According to Serebii, the arrival of an arcade controller with rumored Pokkén support could signal the fighting game's release on Nintendo's new console.
Pokkén Tournament Switch port: Accessory listing hints at possible release
The Tekken version of Pokémon originally came to Wii U and arcades in Japan. Now, like Mario Kart 8, the game could see new life on the Switch. Serebii stated that Japanese retailer Sinobi listed an arcade-style controller for the Nintendo Switch that mentions being able to use the controller stick "in fighting games such as Pokkén." However, the product page has since been updated, removing the game as one of the options. 
One of two things is possible: Either the gaming store made an honest mistake, or Sinobi knows something we don't.
Pokkén Tournament Switch port: On the way?
Serebii emphasized, however, that this is mere rumor at this point. Pokkén Tournament for Switch has yet to be officially announced — at least for now.
It's entirely possible that the game could come to Nintendo's home console/handheld hybrid soon. We've seen the company bring over Mario Kart 8 in the form of MK8 Deluxe, and Splatoon 2 is highly similar to the game that came before it; giving Pokkén the "sequel/deluxe" treatment wouldn't be unprecedented. However, the good-but-not-great reviews of the game and the lackluster popularity of the arcade version means Pokkén Switch may not sell a ton of systems. Though, who knows, the game's release on Switch could very well be super effective.
More Pokémon news and coverage
Read more coverage on the rumored Pokémon Stars, including Nintendo's comments on the potential Switch game and news about Game Freak putting up the Now Hiring sign. Watch how well Sun and Moon could translate to Switch if it was a thing or how the game may not even arrive until next year. Or if you'd rather live in the now, read about Pokémon Go instead.