Macron confronts Putin on alleged Chechnya human rights abuses, Trump still silent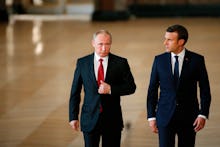 French President Emmanuel Macron is the latest world leader to urge Russia to take action on reported state violence against LGBTQ people in Chechnya. 
The newly elected Macron met with Russian President Vladimir Putin in France on Monday, where he pressed for action on allegations that men perceived to be gay or bisexual are being detained, tortured and killed in the Russian-controlled nation of Chechnya.
"I emphasized to President Putin ... how important it is for France to respect all people, all minorities," Macron told reporters during a news conference with Putin on Monday, CNN reported. "We spoke about the cases of LGBT people in Chechnya. ... I told President Putin what France is expecting regarding this issue, and we agreed to regularly check on this subject."
Reported violence against LGBTQ people in Chechnya
Recent reports out of Chechnya indicate that the Chechen government is engaged in a brutal and violent crackdown on LGBTQ people in the region. Local activists have said that gay men are "disappearing," CNN reported in April. 
According to the Human Rights Watch, Chechen authorities returned some of the gay men to their families and encouraged their families to carry out "honor killings." Several gay men reportedly died in custody, according to the HRW. 
The president of Chechnya, Ramzan Kadyrov, has been described as "Putin's closest ally." 
Alvi Karimov, a spokesperson for the Chechen government, not only denied accusations of a violent campaign against gay men — he denied that there were even gay people in Chechnya. 
"You can't detain and harass someone who doesn't exist in the republic," he told a Russian news agency, CNN reported in April.
According to Macron, Putin said during their meeting on Monday that the Russian government has begun "initiatives" responding to the reports out of Chechnya. 
Will Donald Trump speak out?
Macron isn't the first world leader to urge Putin to take action on the dangerous situation in Chechnya. German Chancellor Angela Merkel told reporters that during her recent meeting with the Russian president, she "asked Mr. Putin to use his influence to ensure the rights of such minorities," according to CNN.
President Donald Trump, who has claimed to have wide support among LGBTQ communities, has yet to join the world leaders calling on Putin to address the reports of violence against gay and bisexual men in Chechnya.
Aside from an April comment by United Nations Ambassador Nikki Haley, the Trump administration has remained largely silent on the allegations of human rights abuses in Chechnya, despite pleas for action from lawmakers, celebrities and activists alike.