How did 'Will & Grace' end? This is why everyone has questions about the revival.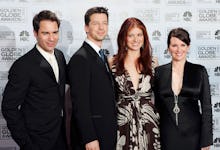 The fab four of Will, Grace, Karen and Jack are confirmed to return to our TVs for 12 whole episodes this fall, and we couldn't be more excited. However, some of us can't help but wonder how Will & Grace will move forward after the 2006 finale skipped ahead more than 20 years. 
Fans will remember that the series finale featured Will and Grace reuniting after a long separation thanks to their children ending up in the same dorm as college freshman. After their kids eventually marry each other, Will and Grace decided to meet up with Jack and Karen — now living together — to share a nostalgic toast; naturally, Karen hadn't aged a bit.
Debra Messing recently spoke on The Bill Carter Interview to answer fan questions, like: "What is this? What's going on? Whats happening?"
All I know is that I was told that they've come up with a very creative way of dealing with how the show ended, and that it will be in real time.
"Real time" suggests that the show will pick up 11 years after Will and Grace's unforgettable reunion, while "very creative" suggests just about anything. The show's fab four could be on a colonization trip to Mars or — gasp — in Brooklyn. We'll have to wait until fall to find out.
Check out the trailer below, which features an original song set to the tune of "As If We Never Said Goodbye" from Sunset Boulevard.
Mic has ongoing coverage of Will & Grace. Please follow our main Will & Grace hub here.