'Tekken 7' Game Modes: All the different ways to play the new fighting game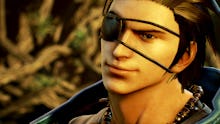 Get hyped for the Tekken 7 release with a full rundown of all the game modes included in the upcoming fighting game.
In fighting games, the quality of the fighting mechanics only goes so far; you need to have a lot of fun modes in which to do the fighting, too. That's why Injustice 2 has a huge story mode, endless single-player challenges and a full loot system. Tekken 7 seems to be following the same mold with its selection of game modes.
Tekken 7 game modes: Story mode, customization and more
In April, Bandai Namco released a trailer showcasing Tekken 7's multitude of game modes. It's in Japanese, but Hardcore Gamer has a helpful summary.
Like Injustice 2, Tekken 7 has a story mode where the cutscenes seamlessly transition into fights. It promises the end of the Mishima saga. For the unfamiliar: The Mishima saga has been a series of fights that usually end with someone throwing either their father or their son into a volcano. There is definitely a shot of two men fighting near a volcano in that trailer, which is exciting.
Beyond that, there is the usual smattering of practice modes and arcade ladders for people who prefer to fly solo. Fighting games are about competition, however, and there's a full suite of multiplayer features to check out. 
You can do local versus, of course, as well as fight your friends or random opponents online in ranked or unranked matches. There's also a tournament mode where you can set up large brackets, with the option of single or double elimination, just in case you want to keep playing after you lose.
Outside of the actual fighting, you can customize the appearance of characters via unlockable clothing items; you can even change the look of your health bar, which is hilarious. Lastly, there's a gallery where you can watch cutscenes from old Tekken games. 
Tekken 7 launches on PS4, Xbox One and PC on June 2.
More video game news and coverage
Check out more video game content on Mic. Including which Pokémon are actually the best and why black players can never seem to get custom characters that look like them. Learn more about how blind gamers are getting in on the fun and why Injustice 2 is nerfing its female characters. See why we love Twintelle (and why we hate Twintelle) in the upcoming Arms, and don't miss our guide to dodging blue shells in the Mario Kart 8 Deluxe — you can thank us later.