What's leaving Netflix in June 2017? Don't miss these 5 departing movies and TV shows.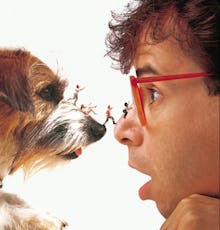 Memorial Day weekend has come and gone, and now June is only days away. For the most part, this is good news. As we move into the summer months, we can expect nicer weather, great movie options and perhaps even a vacation or two. But the coming of a new month also means that some of your favorite movies and television shows could be leaving Netflix. 
Fortunately, this June, Netflix is not dumping quite as many quality options as in previous months. Still, there are some fan favorites that are departing the streaming service. So, before they are gone for who knows how long, here are the movies and television shows you should check out on Netflix. 
1. Honey, I Shrunk the Kids — June 1
It is every scientist's nightmare come true: creating a shrink ray that accidentally, well, shrinks the kids (at least it works). Starring Rick Moranis, Honey, I Shrunk the Kids grossed over $222 million worldwide, and went on to spawn two sequels: Honey, I Blew Up the Kid and Honey, We Shrunk Ourselves. 
While the sequels left much to be desired, Honey, I Shrunk the Kids was generally well-received by critics. So, those looking for an easy family movie may want to check out Honey, I Shrunk the Kids before it disappears from Netflix on June 1. 
2. The Blair Witch Project — June 1
Pick a random horror film released over the last decade, and it would not be so surprising to find out that it was filmed using a found-footage technique. In 1999, this was much less likely to be the case. Of course, that all changed with the release of The Blair Witch Project.
Made for a mere $60,000, The Blair Witch Project went on to gross nearly $250 million worldwide. Experience the legend for yourself before it leaves Netflix on June 1. 
3. Private Practice — June 6
It was recently announced that ABC had ordered a Grey's Anatomy spin-off series focusing on firefighters in the Seattle area. This will be the second Grey's Anatomy spin-off series; the first, Private Practice, ran from 2007 to 2013 and focused on Kate Walsh's Dr. Addison Montgomery after she moved to Los Angeles to join a private medical practice. 
While Private Practice may not have left the lasting legacy that Grey's Anatomy likely will, it is still worth a watch for those that enjoy the series that inspired it. Watch all six seasons before they leave Netflix on June 6. 
4. Jane Eyre — June 16
There have been several adaptations of Charlotte Brontë's classic novel, Jane Eyre, but none have captured the titular character's essence like the 2011 version arguably does. Directed by Cary Joji Fukunaga and starring Mia Wasikoskwa and Michael Fassbender, Jane Eyre holds a respectable 84% on Rotten Tomatoes. Judge the film for yourself before June 16. 
5. CSI: NY — June 29
Part of the long-running CSI franchise, CSI: NY starred Gary Sinise and ran for nine seasons on CBS. Much like CSI: Crime Scene Investigation and CSI: Miami, the third series in the franchise follows a group of forensic scientists that help solve crimes.
It may not offer much more than the prior series, but fans of the franchise will likely have no trouble enjoying CSI: NY. The series will leave Netflix on June 29. 
Mic has ongoing coverage of Netflix. Please follow our main Netflix hub here.