What's new on Netflix? Here are the best movie and TV additions for June 2017.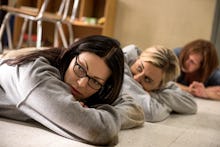 Netflix has a lot to offer subscribers in its new movies and TV shows being added this June. There's so much stuff coming that it's already clear there already aren't enough weekends to spend watching it all. 
Arriving on the streaming service is a slew of new original series — like Glow — as well as returning fan favorites, like Orange Is the New Black. 
On the movie side, titles like Zodiac, Burlesque and Moana will have everyone staying up too late on summer nights. 
Here are the best movie and TV additions coming to Netflix this June.  
13 Going on 30 (June 1)
One of Jennifer Garner's best roles was in 13 Going on 30, a comedy classic that really doesn't get enough love. 
In the movie, Garner plays Jenna, a teenager who isn't really loving the whole coming-of-age experience, until one day she magically appears in the future as her 30-year-old self. 
Gather a group of friends for this one, and make sure everyone is ready for the "Thriller" scene. 
Burlesque (June 1)
Cancel any future plans, because the Cher and Christina Aguilera musical is coming to Netflix. Burlesque was largely panned by critics, but it's so bad that it's actually really enjoyable. 
In Burlesque, Aguilera makes her big-screen debut as Ali. Ali is a small-town girl who is just looking for her big break. She works and performs at The Burlesque Lounge with her boss Tess, played by Cher. They sing, they dance and Cher wears a lot of wigs. 
Zodiac (June 1)
David Fincher's critically acclaimed Zodiac follows the true events of the infamous zodiac killer. The film's remarkable ensemble cast features Jake Gyllenhaal, Robert Downey Jr., Mark Ruffalo and Chloë Sevigny. It's one of Fincher's most well-reviewed films and will leave viewers breathless. 
Trolls (June 7)
Justin Timberlake couldn't stop the feeling, and now the feeling is making its way to Netflix. Perfect for those summer days spent babysitting, Anna Kendrick and Timberlake lead the voice cast of Dreamworks' Trolls.
Orange Is the New Black, season 5 (June 9)
The women of Litchfield Penitentiary return for season five of the hit Netflix series. The fifth season of Orange is the New Black picks up where season four left off and takes place over the course of three days. The cliffhanger finale of season four saw the jail turned upside down as Daya got ahold of a gun, and the women are looking to take over the system.  
Moana (June 20)
Disney's Oscar-nominated animated movie Moana is about a young woman's quest to discover her true power and to save her people. Newcomer Auli'i Cravalho voices the title character and Dwayne Johnson plays her demigod sidekick, Maui. Good luck attempting not to cry during "How Far I'll Go."
Glow, season 1 (June 23)
Netflix's latest original series is Glow, which takes audiences into the world of female wrestling. Well, sort of. 
Alison Brie stars as Ruth, a down on her luck actress living in Los Angeles who hasn't found her big break yet. She and bunch of other actresses are cast to portray female wrestlers in a new TV series and everything changes for them. 
Okja (June 28)
Bong Joon Ho, the man behind movies like Snowpiercer and The Host, brings audiences Okja. The movie is about a young girl, Mija, and her best friend Okja: a huge pet pig. Okja is at risk of being kidnapped, and Mija has to attempt to save her pet.
Netflix made headlines when the streaming services' upcoming movie received rave reviews from critics and audiences at Cannes this month.
Mic has ongoing Netflix coverage. Please follow our main Netflix hub here.