Health care costs going up? Blame Donald Trump, insurance executives say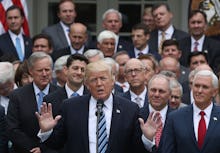 Health insurance rates in a number of Affordable Care Act markets are set to rise across the country in 2018. 
And while President Donald Trump blames the rise on the ACA itself, declaring it to be "dead," health insurance CEOs are pointing their fingers at Trump for the cost increases — saying the uncertainty about whether the Trump administration will fund the law is leaving insurance companies no choice but to raise rates.
"The information we've seen coming from the administration actually creates more uncertainty rather than creating greater certainty," Brad Wilson, CEO of Blue Cross Blue Shield North Carolina, told Vox.
Wilson was referring to cost-sharing reductions — or subsidies the government pays to insurance companies to lower premiums for some 7 million qualified applicants.
Trump wants to kill those CSRs, according to Politico — which would make premiums spike for many Americans, or force insurance companies to drop out of insurance markets altogether. 
The uncertainty around whether Trump will pay for those CSRs led Wilson to raise rates by 22.9% for 2018 plans, rather than the 8.8% hike for which he had been planning if Trump guaranteed the CSR payments.
"The biggest single reason for that rate increase is the lack of the federal funding for CSRs in 2018," Wilson told Vox. "We cannot assume nor should we that the money is going to be there based on what we know today. The president and the administration have made several statements about CSRs that don't give any comfort that they will be available."
Other health insurance CEOs have made similar comments.
Aetna CEO Mark Bertolini told CNBC earlier this month that the "biggest problem" with the ACA is with "how it is funded."
"If it were funded correctly, all these people could get coverage," Bertolini said.
J. Mario Molina, former CEO of Molina Healthcare — which provides plans to Medicaid and Children's Health Insurance Program recipients — also blamed Trump and the GOP for injecting uncertainty into the health care market that is raising health care rates.
"Most of the instability driving up premiums in the marketplace can be directly traced to Republicans' efforts to undermine the health care law for their own political purposes," Molina wrote in an op-ed in U.S. News and World Report.
According to Politico, Trump wants to stop making CSR payments to force Democrats to come to the negotiating table on an ACA replacement.
Yet even in the unlikely possibility that the move would bring Democrats to the table and help pass the American Health Care Act, the law that's ultimately passed would need time to go into effect. 
And prices for plans for the 2018 year — which must be submitted by June — would skyrocket, hurting Americans in the short term.
"One common thread in all these efforts is that Americans who purchase their health coverage through the individual market are the ones harmed," Molina wrote in his op-ed. "Not insurance companies."