Portland stabbing victims honored with impromptu memorial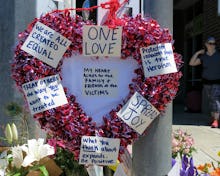 Taliesin Myrddin Namkai Meche, 23, and Rick Best, 53, were fatally stabbed Friday on a Portland, Oregon, train. They were reportedly defending two young women from harassment when it happened. 
Now the light-rail station where the two men were killed has become an impromptu public memorial — a place to collect the public outpouring of grief and emotion from the shaken city.
Meche's mother, Asha Deliverance, posted a photo of the memorial on Facebook on Monday with the caption: "This is the spot with my son passed away. Community Makes everything beautiful." 
The image shows an array of chalk-drawn messages including "Portland stands with you" and "This will not stop us."
Meche and Best were killed while allegedly trying to defend two women from 35-year-old Jeremy Joseph Christian, who was reportedly threatening them and other passengers with anti-Muslim hate speech. Christian, who according to the Washington Post has a history of racist and extremist postings on social media, is now in custody. 
A third person, Micah Fletcher, was also injured while attempting to intervene.
In a Facebook post identifying Meche as one of the victims of Friday's deadly stabbing, Asha Deliverance wrote that her son was "a hero and will remain a hero on the other side of the veil."
"Shining bright star I love you forever," she added.