Timothy Loehmann, officer who killed Tamir Rice, fired from Cleveland Police Department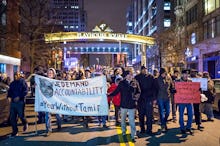 Timothy Loehmann, the Cleveland police officer who shot and killed 12-year-old Tamir Rice in November 2014, was fired from the Cleveland Police Department Tuesday, city officials said.
Frank Garmback, the officer in the car with Loehmann at the time of the shooting, was suspended for 10 days and ordered to undergo additional tactical training.
"We've gone through an exhaustive process [to reach this conclusion]," Mayor Frank Jackson said at a press conference. "Our condolences go out to Tamir Rice's family for the loss of their child."
Officials said Loehmann's firing stemmed from answers he gave on his personal history statement while he was applying for a job with the Cleveland PD — not from his actual conduct on the day he shot Rice.
Officials did not specify what these answers were. But memos from Loehmann's previous job with the Independence, Ohio, Police Department described a "dismal," "distracted and weepy" performance during handgun training in 2012, and recommended that he be released from the department, according to the Guardian. 
Loehmann resigned from Independence PD three days after the report was issued.
On Nov. 22, 2014, Loehmann and Garmback responded to calls that a person was brandishing a firearm at a Cleveland recreation area. The officers pulled up next to Rice, who is black, and Loehmann shot him almost immediately. 
The "firearm" turned out to be an airsoft pistol. The incident was caught on surveillance video, which also showed the officers tackle and handcuff Rice's 14-year-old sister, Tajai Rice, as she ran toward her dying brother. The shooting sparked months of protests nationwide, fueled by a broader activist Movement for Black Lives aimed at ending police shootings of black people.
Neither Loehmann or Garmback were indicted for any crime.