'Arms' Nintendo Switch Characters: Min Min and Ninjara dominate the global beta, because obviously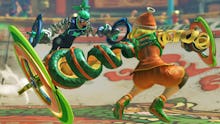 The Arms characters attendance sheet wasn't at 100% during the global beta, but that didn't stop players from using their new favorites. There's a ton of hubbub surrounding Twintelle, and characters like Helix and Ribbon Girl are warmly acknowledged as well. Though there are two Arms fighters that stand above the rest.
'Arms' Nintendo Switch characters: Min Min and Ninjara are early fan favorites
Ninjara and Min Min are officially the most popular characters of the Arms Global Testpunch. According to the Japanese Arms account and Twitter's built-in translation tool, Ninjara was the No. 1 choice, and Min Min was second. While the Arms announcer on Twitter confirms the characters' popularity, we can confirm that the characters' level of swagger. Min Min are, undoubtedly, the coolest. 
Look at the full list of Arms characters and you may notice that not everyone on the roster took part in the recent beta trial. Kid Cobra, Byte & Barq and Twintelle are still missing from the call sheet, which means that while Ninjara and Min Min may be folks favorite Arms characters to use for now, this could change when everyone arrives. 
As to why Ninjara and Min Min were the most used remains unclear. Besides being — as we previously mentioned — being the damn coolest, the characters are not especially overpowered in any way. The two are certainly more agile than heavier characters like Master Mummy and offer a bit more flavor than bland Spring Man.
Arms' ninja and ramen enthusiast may be the most popular for now, but the full game ships with more characters. We'll be playing the second weekend of Arms' global beta if only to try out those new modes and we recommend you do the same. Those avoiding spoilers, however, keep the game at an arms-length. 
Check out more Arms news and coverage
See more Arms news and coverage on Mic including when the global testpunch beta is and which characters you'll actually be able to use. Make sure to see how big the game's file-size is before you go downloading. More importantly check out why the community loves Twintelle and why we're not quite sold. With a few changes, she'd be perfect for Smash Bros.