'Game of Thrones' season 7 premiere: This is everything we know about episode 1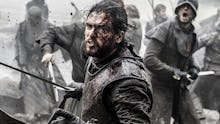 When it comes to Game of Thrones, you avoid spoilers or you die. That being said, here is a spoiler-free prep course to get ready for the season seven premiere of Game of Thrones, which premieres in July. 
Things are moving fast
Season seven is only seven episodes long, which means there will be some real action real fast. That could mean that the Lannister/Dothraki showdown in the season seven trailer could happen as early as episode one. 
Showrunners David Benioff and Dan Weiss recently confirmed that season eight will be only six episodes, which further indicates that Thrones is rushing toward its conclusion.
Some of those rumors might be true
Plenty of season seven rumors have surfaced in the dark corners of the internet, but the season's first trailer actually confirms some of them. 
Close glimpses reveal Melisandre at Dragonstone, the Unsullied at Casterly Rock, Jon Snow and Tormund Giantsbane beyond the Wall and a Night's Watch soldier who looks suspiciously like Gendry. The actor who plays Gendry was spotted filming in Iceland earlier this year, which adds further fuel to the (song of ice and) fire.
All of these developments echo events mentioned in an anonymous leak of season seven's entire plot, which suggests that the leak might be legitimate and that some major players will be meeting for the first time in the very first episode.
There's also a newer rumor that Cersei may die at the hands of Jaime, but viewers will probably have to wait until much later for that.
Be ready for a new face
The season's most important new character will likely appear early on. Jim Broadbent — a.k.a. Professor Slughorn to Harry Potter fans — will be playing an archmaester mentoring Sam Tarly in the Citadel. 
Screen Crush posits that Broadbent may be playing Maester Marwyn, who plays a significant role in George R. R. Martin's A Feast for Crows.
Season seven premieres July 16
Season seven of Game of Thrones is set to premiere July 16 on HBO. Check out the season's first trailer below. 
Mic has ongoing Game of Thrones coverage. Check out our main Game of Thrones hub here.