3 takeaways from Texas' turbulent and disturbing legislative session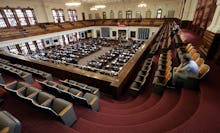 A contentious Texas legislative session ended in protests and threats of violence Monday as Gov. Greg Abbott mulled calling a special session.
Tensions were high throughout the 85th regular session in Austin as state lawmakers considered controversial legislation on immigration, abortion and a so-called "bathroom bill" forcing transgender Texans to use the restroom corresponding to the gender on their birth certificate. 
Those tensions boiled over Monday after Republican Rep. Matt Rinaldi allegedly told Democratic colleagues that he called Immigration and Customs Enforcement to deport activists protesting the Lone Star State's recently passed bill banning sanctuary cities in Texas.
"I called ICE — fuck them," Rinaldi said, according to Democratic State Rep. Ramon Romero. 
A scuffle ensued, during which Rinaldi was accused of threatening to "put a bullet" in a Democratic lawmaker's head. In a statement posted to Twitter, Rinaldi said Democrats "assaulted" him and accused Democratic Rep. Poncho Nevárez of threatening to "get me on the way to my car." 
Here's what went down during Texas' fiery regular session — and what you need to know going forward.
The "worst session" Texas lawmakers have seen
The heated end of the 85th legislative session capped what one Democratic lawmaker said was the "worst session" some of her longer-serving colleagues had ever seen.
"This session has been very, very difficult and emotional in many different ways, in many layers, over contentious issues, and there are enough of us here to remember a time in Texas when respect and decorum ruled the day," Rep. Celia Israel said in a Monday press conference. "It's just ironic — my senior members that have been here dozens of years have told me this is the worst session they've ever seen."
It wasn't just Monday's confrontation over the state's "show me your papers" bill. According to the Texas Tribune, two conservative representatives nearly came to blows during a budget discussion in April and had to be separated by their colleagues. 
And it wasn't just state legislators breaking from "respect and decorum," either. On Friday, Gov. Greg Abbott joked about shooting reporters while at a firing range to sign a bill lowering fees on gun licenses.
"I'm gonna carry this around in case I see any reporters," Abbott said.
Victories for Texas conservatives
In early May, Abbott took to Facebook Live to sign into law SB4, a bill that bans sanctuary cities in Texas and permits police to ask about the immigration status of anyone they detain. 
"Let's face it, the reason why so many people come to America is because we are a nation of laws," Abbott said, "and Texas is doing its part to keep it that way."
SB4 has sparked protests in the state. Hundreds of demonstrators in red shirts emblazoned with the words "fight back" took to the state house on Monday to challenge the bill.
The legislation was one of several victories for Texas conservatives during the 140-day session. Lawmakers also passed a "lean" budget that provides limited funding for public education and Medicaid; a diluted Sandra Bland Act that does not include police accountability measures; a move allowing Texas county clerks to decline to sign marriage licenses for gay couples if they have religious objections; and a restrictive anti-abortion bill.
Special session possible
The fights might not be over yet. 
Two issues — property taxes and a "bathroom bill" — Abbot considered priorities were left unresolved by the time the regular legislative session gaveled to a close.
Lt. Gov. Dan Patrick has been vocal both in his support of bringing legislators back to Austin for a special session and his backing of a measure forcing transgender people to use restrooms corresponding to the gender on their birth certificate. "I think the handwriting is on the bathroom wall: Stay out of the ladies' room if you're a man," Patrick said in 2016. 
Abbott, who faces re-election in 2018 and has traditionally opposed special sessions, said he will decide whether to call a special session "later this week."
A special session, which can last up to 30 days, seems likely, according to the Texas Tribune.