Cannes Film Festival 2017 Winners: Every theatrical release date you need to know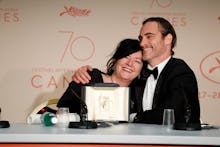 It may be time to say "au revoir" to the 2017 Cannes Film Festival, but many of the films that won top prizes are just now assuming a notable place in the entertainment world. Of the 19 feature films that were in competition, seven took home the most coveted awards, and as a result, are on the tips of everyone's tongues. 
So what do the futures of these now award-winning films look like? When will they premiere in theaters? That, of course, depends on a lot of factors — like whether or not the film has officially been bought by a distribution company yet and what its international release situation looks like. 
For those who want to start mapping out their year in movie-watching, here are the Cannes award winners' release dates that have been announced. 
Adapted from Thomas Cullinan's Civil War novel, Sofia Coppola's The Beguiled is about a wounded soldier who takes refuge at a Virginia girls' school and ends up being imprisoned by the women there. The film stars Nicole Kidman, Kirsten Dunst and Colin Farrell, and Coppola took home the best director prize at Cannes. 
Release date: June 30
Writer-director Yorgos Lanthimos won the best screenplay prize for his film The Killing of a Sacred Deer. Starring Colin Farrell, Nicole Kidman and Alicia Silverstone, the film is about a teen who tries to bring a surgeon into his dysfunctional family. 
Release date: Nov. 3
Phoenix did not expect to win the best actor prize for his portrayal of a veteran in Lynne Ramsay's thriller about a sex trafficking rescue gone wrong, but that's exactly what happened. 
Release date: The only current release date for the film is May 27, which was its Cannes premiere, but considering how well it did at the festival, a wider release date should be imminent. 
Diane Kruger won best actress at Cannes for her role in the Fatih Akin film In the Fade. Kruger portrays a woman who loses her son and husband in a horrible bombing. The movie is about what ensues in the tragedy's aftermath. 
Release date: No premiere date has been set for the United States yet, but  the film will premiere in Australia on June 17 as part of the Sydney Film Festival and Nov. 23 in Germany. 
Despite having few well-known actors involved in it, Loveless managed to nab the jury prize at Cannes this year. The film focuses on a couple embroiled in a terrible divorce who suddenly discover their son is missing. 
Release date: No United States release has been set, but the film will premiere in Armenia, Belarus, Kazakhstan and Russia on June 1, and Sept. 20 in France.
120 Beats Per Minute was awarded the grand prize at Cannes this year for its impassioned portrayal of the AIDS crisis in France in the early 1990s and the activism that followed. 
Release date: No United States release date has been set. The film will premiere in France on August 23.
Ruben Östlund, writer and director of The Square, landed Cannes' top prize, the Palme d'Or, this year. As the film's title suggest, it's about an art exhibit in a city square in which people can do whatever they want without consequences. 
Release date: No United States release date has been set, but the movie will debut in the United Kingdom and Sweden on Aug. 25, and in Norway on Aug. 29. 
Mic has ongoing Cannes coverage. Check out our main Cannes hub here.