'Mass Effect: Andromeda' Romance: BioWare has just a few days to release promised patches on time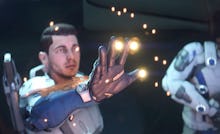 On April 4, BioWare promised disappointed Mass Effect: Andromeda fans that it would roll out a number of significant updates and improvements over "the next two months." That self-imposed deadline is quickly approaching.
With just a few more days left until BioWare hits the two-month mark, it's worth taking inventory of exactly what updates it has delivered on — and which are still a complete mystery. (We're looking at you, same-sex romance options.)
Mass Effect: Andromeda update: Every promised patch BioWare has yet to reveal
If you need a refresher, here's the full list of Mass Effect: Andromeda updates BioWare said it would roll out over a two-month period:
• More options and variety in the character creator• Improvements to hair and general appearance for characters• Ongoing improvements to cinematic scenes and animations• Improvements to male romance options for Scott Ryder• Adjustments to conversations with Hainly Abrams
Of the above, BioWare has delivered on just two points so far: Improvements to hair and improvements to cinematic scenes and animations. 
And, of the remaining updates, the improvement to Hainly Abrams — Andromeda's only transgender character — is the only one BioWare has explained in detail so far, but it still has yet to arrive in-game. (You can catch up on the full details of how and why BioWare is updating her here.)
Notably, BioWare still has yet to say what its plans are for Scott Ryder's lackluster same-sex romance options. Fans have been petitioning BioWare to make Jaal — Ryder's Angaran squadmate — a same-sex romance option, but it's not clear whether BioWare will comply or whether it has totally different plans.
Mass Effect: Andromeda's last update hit May 10. So, ostensibly, we're on the cusp of the next one. However, BioWare has yet to say exactly when it'll be available or what it will contain. The only details come from Mass Effect: Andromeda producer Michael Gamble, who recently tweeted that "the next patch is on schedule," calling it his "personal favorite" update so far — but did not offer any hints as to what fans should expect.
Given the significant scope of the remaining updates, it's unclear whether BioWare will be able to deliver them on time or whether it'll have to revise that initial two-month plan.
When reached for comment via email, a representative for BioWare said it will "have more info on updates soon. The team is striving to address fan feedback and maintain their promise to their players."
When BioWare announces more, we'll let you know.
More gaming news and updates
Check out the latest from Mic, including our list of video games that made fun of their players, a personal essay about dealing with anxiety through Breath of the Wild, a look at the racist and sexist experiences in esports and a plea for better character customization options for black characters.