Why is Lebanon trying to ban 'Wonder Woman'?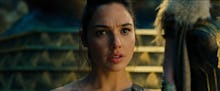 Wonder Woman hits theaters nationwide on Friday. The latest entry in the DC Extended Universe is already receiving wide critical acclaim and was recently named by Fandango as the most anticipated film of the summer.
In the next several weeks, Wonder Woman will also be released in countries across the globe. It appears, though, that there are some in Lebanon who hope the film is banned from their country entirely.
According to the Associated Press, the Campaign to Boycott Supporters of Israel-Lebanon wants to have Wonder Woman banned because it stars Gal Gadot, an Israeli. 
"Lebanon is officially at war with Israel and has a decades-old law that boycotts Israeli products and bars Lebanese citizens from traveling or having contacts with Israelis," the AP reported.
Should the group succeed in having Wonder Woman banned — which would require a recommendation from a six-member committee from the Ministry of Economy — it would be the first of Gadot's recent films to be banned in Lebanon. 
According to the AP, Batman v Superman: Dawn of Justice and sequels to The Fast and the Furious, which also starred Gadot, did receive releases in the country. Prior to embarking on a career as an actor, Gadot won the Miss Israel competition and served for two years in the Israeli military. 
Mic has ongoing coverage of DC Comics. Please follow our main DC Comics hub here.