'Lost Sphear' PS4, Switch and PC: New RPG from 'I Am Setsuna' team release set for early 201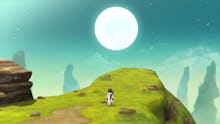 These days, you pick up a Japanese role-playing game like Final Fantasy XV or Persona 5 and you're expected to devote your entire life to it. If you're a working adult with an active social life, good luck seeing them through to the end. Luckily, Square Enix is here to bail us out with Lost Sphear, coming next year to PS4, Nintendo Switch and PC.
Lost Sphear announced for PS4, Switch and PC
Square Enix announced Tuesday that the next game from Tokyo RPG Factory (the studio with the most dystopian name) is Lost Sphear. You may or may not remember Tokyo RPG Factory from Feb. 2016's I Am Setsuna, a turn-based RPG that threw back to the 16-bit era with a top down perspective and combat right out of Chrono Trigger. Most importantly, it wasn't a full $60 and you could finish it in a mere 20 hours.
Judging from the announcement trailer, Lost Sphear looks reminiscent of I Am Setsuna.
According to the press release, Lost Sphear follows Kanata, a young boy who finds his hometown disappearing into thin air. He and friends set out to "rebuild the world around them with the power of memory by manifesting thoughts into matter."
That sounds like a JRPG story, alright. Lost Sphear has an enhanced version of the active turn-based combat from I Am Setsuna, which allows players to "strategize and freely adjust their placement mid-fight." It looks like attacks that hit every enemy in a line or in an area of effect are back, which I Am Setsuna took from Chrono Trigger to its benefit. 
Lost Sphear promises to be bigger than its predecessor, indicated by its $50 price tag. That's $10 on top of what I Am Setsuna cost. It launches on PS4, PC and Nintendo Switch in early 2018. 
More video game news and coverage
Check out more video game content on Mic. Including which Pokémon are actually the best and why black players can never seem to get custom characters that look like them. Learn more about how blind gamers are getting in on the fun and why Injustice 2 is nerfing its female characters. See why we love Twintelle (and why we hate Twintelle) in the upcoming Arms, and don't miss our guide to dodging blue shells in the Mario Kart 8 Deluxe — you can thank us later.