Trump attorney Michael Cohen: Congressional testimony request is a "fishing expedition"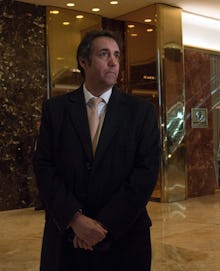 Michael Cohen, the president's personal attorney and one of his most diehard loyalists, says he's been roped into a "fishing expedition" by Congressional lawmakers investigating possible ties between Russia and the 2016 Trump campaign.
ABC News reported Tuesday that "House and Senate investigators" had asked Cohen for information "about any contacts he had with people connected to the Russian government."
In a conversation Tuesday, Cohen told Mic, "I declined the invitation to participate, as the request was poorly phrased, overly broad and not capable of being answered."
Cohen went on to say the communications he received from Washington were identical to those sent to others within Trump circles: "As every invitation is the same, this is not an investigation, but rather a fishing expedition," he said.
The former top counsel to the private-sector Trump Organization also said he found it "irresponsible and improper that the request sent to me was leaked by those working on the committee."
Among those who have publicly acknowledged being approached by Congressional investigators in the Trump-Russia probe is Roger Stone, who has said he is anxious to testify in public that there was no collusion between the campaign and any Russian government interests.
Former Trump aides Paul Manafort and Carter Page have also been named as figures in the ongoing inquiries.
Cohen spoke on the same day that CNN reported that Russian officials claimed during the campaign to have "derogatory information" about Trump and his aides that could be used to influence the administration were he elected.
More recently, multiple news reports revealed that the president's son-in-law and close adviser, Jared Kushner, had also come under FBI scrutiny, although he has not been accused of malfeasance.
As ABC noted, earlier this year, Cohen formed a "strategic alliance" with Patton Boggs, a Washington lobbying firm "whose clients include Russia's third-largest bank, Gazprombank." The piece also specified that Cohen's "wife is Ukrainian, and he once worked with her family in Ukraine to establish an ethanol business."
Cohen in January dismissed an unverified dossier that purported to implicate him in dealings between Team Trump and Russia — as well as suggested that Trump himself had engaged in salacious activities. 
In an interview at the time, Cohen told Mic the dossier's allegations were "fake news nonsense" and "absolutely silly."