What Melania Trump wore her 19th week as first lady — the one day we saw her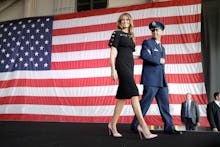 Melania Trump had one hell of a week last week, giving us 16 outfits total in a mere seven-day period — and that was a record.
So maybe that's why she's been noticeably quieter this week. Maybe she's tired. Maybe she's too busy appreciating her LGBTQ friends, with the start of Pride and all, like her step-daughter Ivanka. Who knows!
But in any case, we only saw Trump one day this week, on Saturday as she was just leaving Italy and coming back to the U.S. Still, in that one-day period, she gave us three looks. So at least that's something.
Here is what she wore this week:
Saturday, May 27: A floral, loose Dolce & Gabbana dress for Italy 
For anyone who's kept an eye on Trump's style from the beginning, this outfit should come as a surprise. Never one to embrace loud prints or anything too flowy, this Dolce & Gabbana dress stands at odds with her reputation.
That's not to say it looks bad, though. Quite the opposite. This is a modern dress, with a modern silhouette, that's really quite flattering and cute.
Saturday, May 27: An embellished Dolce & Gabbana dress 
Hours after that rose dress, Trump continued her run of riskier, more interesting fashion choices by picking a fun, black Dolce & Gabbana dress with shiny baubles as embellishment at a speech for military families near Sicily. 
She capped the look off this time with bright pink shoes. 
Saturday, May 27: A casual cardigan for touching down in the U.S. 
By Saturday night, Trump's whirlwind trip was over, with her touching down in the United States wearing what's believed to be a Dolce & Gabbana cardigan, Fendi pants and glittery D&G heels. 
This is a look that'd you'd expect to be hanging in Trump's closet, so maybe this European fashion extravaganza has indeed come to a close.
You can see previous recaps of what Melania Trump wore here.