Airbnb tells users to go "off the grid ... Sioux style" in California, which is not Sioux land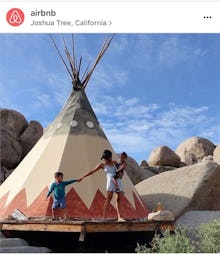 Hospitality app Airbnb has deleted two social media posts urging users to "go off the grid ... in true Sioux style" by booking a tipi in the California desert.
The Instagram version of the post was geotagged to Joshua Tree National Park. The Sioux tribes are native to the American Midwest — namely Minnesota, the Dakotas and Nebraska — as well as Manitoba and Saskatchewan in Canada.
Not Southern California.
The full post read:
This Memorial Day weekend, go off the grid with your kids in true Sioux style, no tent-pitching necessary. Inside this 250-square foot tipi, which accommodates up to 7 people, you'll have the comforts of a cozy master bedroom. And outside, you're surrounded by desert riches: Joshua trees, succulents, epic sunsets, and peacocks, yes peacocks. It's an unconventional getaway for a social family like yours. The only problem you'll run into, is figuring how to get the little ones to want to go home. 
Social media users lambasted what they saw as the company's attempt to profit off a dubiously "true" Native American experience — while simultaneously ignoring the most basic facts about that experience.
"Remember just a few months ago when water protectors in [North Dakota] were being violently pulled out of their tipis at gun point?" Dr. Adrienne Keene, a Cherokee professor and founder of the blog Native Appropriations, tweeted on Monday. "Folks want to be us with the 'comforts of a master bedroom' but don't want to deal with the actual consequences of being Native."
Airbnb expressed regret regarding the post. They deleted it on Instagram and Facebook, where it had been shared Sunday.
"We should not have used this language and we want to apologize to everyone for our poor judgement," Nick Pappas, an Aibnb spokesperson, said via email. "We have deleted these posts."
Airbnb has come under fire for racial controversies in the past as well. Several black users have criticized the company for failing to moderate its users properly, resulting in discriminatory practices where Airbnb hosts reject applicants on the basis of their race.