Sean Spicer gets combative in first on-camera press briefing in two weeks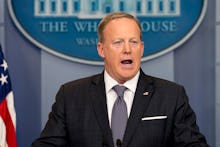 White House press secretary Sean Spicer returned to the briefing room podium Tuesday for the first time in more than two weeks, taking the time to castigate the media for not heaping effusive praise on Trump's nine-day trip through the Middle East and Europe.
"It was an unprecedented first trip abroad, just four months into this administration, and it shows just how quickly and decisively the president is acting to strengthen alliances, form new partnerships and to rebuild America's standing in the world," Spicer said, before reading praise from Trump surrogate Newt Gingrich and former CIA Director Jim Woolsey.
Once Spicer's long defense of Trump's foreign trip was over, he received tough questions about incidents on the trip — which included some testy interactions with key world leaders.
From there, the tone news conference changed dramatically.
Spicer denied a diminished relationship with Germany when he was asked about German Chancellor Angela Merkel's comment that Germany could no longer "completely depend" on the United States.
He called the relationship between Merkel and Trump is "fairly unbelievable" — a comment that doesn't really make much sense.
Spicer went on to call out the media for reporting "fake news," which he said is reported "over and over again." But when asked to provide an example of a fake story, he could only point out one incorrect tweet from Trump's foreign visit that was later corrected. 
In all, Spicer spent just about half hour with reporters — with much of that time used to deliver his defense of Trump's foreign trip. 
"After 15 days without an on-cam WH briefing, @PressSec took only 19 minutes of questions," ABC News chief White House correspondent Jonathan Karl tweeted. "I've never seen a press secretary answer so few Qs."