What it really means when a brand says it's "Made in America"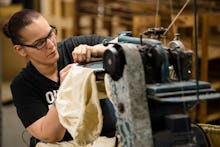 Ten years ago, if you had thought of the term "Made in America" you probably thought of items that are produced with American-made materials, crafted entirely within the United States.
Then, American Apparel tarnished the term somewhat after claims the American-made company used illegal labor. And now, with Donald Trump's rise in American politics, it's become a highly politicized talking point, with brands that have long-been made in America caught in the middle.
"The buy and hire American order I'm about to sign will protect workers and students like you," President Donald Trump told a crowd of of manufacturing employees in Wisconsin in April. "It's America first, you better believe it. It's time. It's time, right?"
For many brands though, it's been time for a while. Long before Trump made supporting American-made brands a campaign slogan (regardless of the fact that Trump's own brand isn't made in America), some fashion companies took it seriously, and remained dedicated to keeping production in the U.S. Since 2009, long before Trump ascended, U.S. apparel production has increased by 50%.
So Mic decided to speak with a number of brands that pride themselves on being made in America, to get a feel for what it really means to them, and what has to be done for more American brands to stay here and thrive.
What 'Made in America' really means
At its core, a brand being made in America means that from its first designs to its fabrics to its manufacturing, it's all being sourced from America.
Brands you may strongly associate with being American, and think have an investment in the so-called American dream, like Levi's and Ralph Lauren, aren't made in America at all, favoring factories from places like China and Bangladesh, places that are at the center of many workers rights concerns.
So to these brands which are made in America, it means a lot to them.
"Our brand is very small, so I think it lets people know that we're a small business, and we support other small businesses," Kerry Stokes, a co-founder of Calhoun & Co., which specializes in cheeky home decor and produces in Brooklyn and North Carolina, said in an interview. "I think it's important to support people in your community, and that could mean a lot of different things. It's just about supporting small businesses, and also having a safe, responsible business model."
Given the many controversies surrounding foreign labor, and the common exploitation of factory workers abroad, the founders of these made in America brands see it as almost a moral move.
"I think the label speaks to some degree of integrity to the brand," Jon Bekefy, the founder of Alta Motors, which produces screen-printed T-shirts out of Oregon, said. "It speaks to me about a level of concern and care about the market and the workplace and environment. We have such good control over what we do and where do it here."
What are the pros of being explicitly made in America?
From a brand standpoint, being made in America has plenty of benefits. For one, regardless of Trump's involvement or not, there is an inherent non-partisan patriotism in only looking at American resources.
"Supporting American-made products is outside any rhetoric or connection to anything going around," Edward de Innocentis, the co-founder of 1620 Workwear, which uses fabrics from Massachusetts, and factories in El Paso and Los Angeles, said in an interview. "Regardless of who's in office, it promotes this idea that Americans are working together."
There's also the fact that keeping business as domestic as possible is easier, and ensures a high-quality product. Business owners are able to keep an eye on production, the factories themselves and the people who work in them.
"There's some real benefits, like a faster turnaround in styles and sampling product," Joshua Walker, a co-founder of 1620 Workwear, said. "You can also go to the factories, and see things for yourself and check and see how the people are doing."
So why aren't more brands being made in America?
Given the benefits, and the ability for brands to keep an eye on production and factories, why aren't more brands embracing this movement?
There's a bit of a two-prong answer to this question. The first is that to some giant brands looking to make 10,000 shirts and 20,000 pants at a time, America simply doesn't have the resources, nor the people willing to invest, in order to have a strong production system for clothing here.
"When you talk about manufacturing in the United States and in China, you're talking about a China with factories that are fully automated," Courtenay Nearburg, co-founder of the menswear brand Krammer & Stoudt, which is based out of Brooklyn and uses factories in New York and Los Angeles, said in an interview.
She continued: "They have a ton of factories and we're talking machine-made clothes. When we're talking about made in the U.S., we don't have a lot of machine-driven factories. We're talking about clothes made by hands still, on sewing machines, it's those kinds of skills. So it's just an entirely different infrastructure, and skill sets of the people who are making these clothes."
Another problem facing some high-fashion designers like perhaps Ralph Lauren and Michael Kors, who use factories in Bangladesh and China respectively, is that American-made items aren't inherently associated with luxury, the way that Paris-made or Milan-made items are.
"I can't think of any luxury brand that's made in the U.S," designer David Hart, whose clothes are produced in Brooklyn, New Jersey and Chicago, said. "When you think of one American designer who's luxury, it's Tom Ford, and he makes in Italy. It's been engrained in people's minds, this idea that American brands are streetwear and not luxury."
Who Made in America is really benefitting:
This is where it gets kind of interesting, politically. On the business side, a fashion company focusing on producing and manufacturing all of its products in America obviously help things like American fabric producers and American small businesses, even American factories. But who's working in those factories?
According to the founders of 1620 Workwear and Hart, it's immigrants. By buying American, you're not only helping American companies and factories, but immigrants themselves, who make up a ton of factory workers in the United States.
"You go into our factories, and it's all immigrants making our stuff," de Innocentis said. "And they're coming here and they respect their jobs and it's very unique. The factory owner [of our factory we use in Chicago] was a refugee in 1991 and moved here as a dressmaker. His labor force is mostly Polish and Hispanic, which is dominant in Chicago."
"As American consumers are paying more for American-made goods, they're directly benefitting and helping the immigrants who've made them," de Innocentis continued. "The parking lot at our manufacturing is filled with nice cars. The world we don't want to live in is getting people cheated, which can happen in Asia because the wages are lower." 
Indeed, as Hart noted, by only producing in America, he can go to his factories and keep an eye on the workers themselves, and make sure they are treated well. In a time when calls for safer working conditions for factory workers in China and Bangladesh haven't been heard, that's important.
"I couldn't develop my collection without immigrants and the people that are working in the factories," Hart said. "It's important that the workers are well-cared for. The other great thing about working with factories here is that I can actually go and talk to the people who are making this clothing. That's different than emailing with someone overseas. There's something super special about having that connection."
It's simply that, in the fashion world, everyone is truly entirely indebted to immigrants and the skills they've brought in. And don't think that the irony in Trump trying to boost these industries, despite them being dominated by immigrants and him being so anti-immigration, is lost on these designers.
"I don't think that he's really familiar with a lot of the ins and outs about anything having to do with manufacturing or factories or anything," Nearburg said. "Any attempt at bettering American manufacturing is going to have a positive effect on immigrants, and help them bring more of their family members over. He has no idea."
Regardless of Trump speaking so publicly and constantly about "Buy American, Hire American," none of the American-made designers and business owners we spoke to have seen any Trump impact at all.
What it going to take for more American brands to boom?
The simplest answer to this question is: Investment. Investment by billionaires for improved production and sustainable factories and investment in things like fabric production and innovation.
"It should get to a point when a company wants to scale up, and there are facilities here in the U.S. that can provide for them," Nearburg said. "There's not a lot of big brands doing this made in America thing, and the reason I think is the sustainability economically with huge production runs in the U.S. Again, things here are more handmade, on sewing machines and that's fine because it's a great quality, but it's not conducive to large productions."
That being said though, designer David Hart is hopeful.
"It's all just on people who are committed to being made here," Hart said. "There's so many benefits and yeah, maybe you'll have to decide to be a little smaller, but the quality and the joy in this kind of production is unparalleled."