What we know — and don't know — about Trump's financial ties to Russia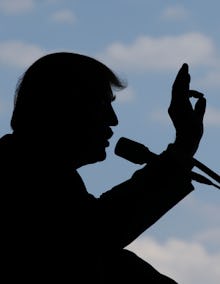 Russian officials may have discussed using "derogatory information" about then-candidate Donald Trump's finances to potentially influence his administration.
According to CNN, which broke the story, United States intelligence had intercepted communications that suggested Russians believed they could influence Trump using the information about him and his inner circle.
While sources warned that the information might have been exaggerated or fabricated by the Russians, it has renewed calls for Trump to release his tax returns to show any financial ties between the president and Russia.
"Trump's taxes are an important first piece in the puzzle to determine whether or not he has financial ties to Russia," Norm Eisen, a former Obama administration ethics lawyer, told the Washington Post on Tuesday.
What we know about Trump's business ties to Russia
Earlier this month, lawyers for Trump announced that the president's tax returns showed no income from Russian sources in the last 10 years — "with a few exceptions."
Those exceptions, the lawyers wrote in a one-page letter, were a 2013 Miss Universe event held in Moscow, the 2008 sale of a Florida estate to a Russian billionaire and "ordinary course sales of goods or services to Russians or Russian entities" whose amounts are "immaterial."
The Miss Universe event brought in $12.2 million. The estate, which Trump Properties acquired in 2005 for about $41 million, was sold to "Russian fertilizer king" Dmitry Rybolovlev — who would never live there — for $95 million. Trump and Rybolovlev each deny having ever met one another, but some have raised questions about two instances during the 2016 campaign in which his travel intersected Trump's — suggestions of a connection between the two that Rybolovlev has dismissed as "pure coincidence."
While the Trump lawyers said they only found those three exceptions, past comments by Trump and his sons suggest those aren't the only financial ties the president has had with Russia.
Trump has been traveling to Moscow for business since the 1980s, according to the Post, and Donald Trump Jr. said at a 2008 real estate conference that "Russians make up a pretty disproportionate cross-section of a lot of our assets."
"We see a lot of money pouring in from Russia," Trump Jr. said, according to the Post. 
The president himself has, in the past, spoken explicitly about Russia being "one of the hottest places in the world for investment," the Post reported, and vowed to bring a Trump Tower to Moscow.
Trump has also worked extensively with Russian business executives on real estate projects in the U.S. and around the world, according to an ABC News report, and admitted to George Stephanopoulos in 2016 that he sells condos to Russians — though he maintained he has "no relationship to Russia whatsoever."
Not so, said Sergei Millian — a businessman who said he helped Trump market condos in Russia and former Soviet states and may have been a source behind the explosive "golden shower" dossier. 
"The level of business amounts to hundreds of millions of dollars of what he received as a result of interaction with Russian businessmen," Millian told ABC News. "They were happy to invest with him, and they were happy to work with Donald Trump. And they were happy to associate—[and] be associated with Donald Trump."
What we don't know about Trump's Russian ties
Trump's potential financial ties to Russia remain shrouded in uncertainty because he has refused to release his tax returns. 
Steven Rosenthal, a senior fellow at the Tax Policy Center, told CNN that Trump's tax returns could reveal not just direct ties between the president's businesses and Russia — but "indirect" ones.
"Russians would not loan directly to Trump or his businesses," Rosenthal said. "A Russian would, for example, fund a Cyprus corporation, which would lend to Trump or his businesses, possibly through other intermediary entities."
CNN's "derogatory information" report comes as the investigation into the Trump campaign's potential ties to Russia has intensified; several members of Trump's inner circle also have business links to Russians. 
While the CNN report is "a bit sketchy," according to the Post's Greg Sargent, it shows the importance of seeing Trump's taxes.
"While it is perfectly possible that all this could ultimately produce no evidence of serious wrongdoing by Trump and his team, this is also about establishing a full accounting of Russian efforts to sabotage our election, regardless of whether there was any collusion," Sargent wrote. "Fortunately, the drip-drip-drip of revelations, as well as Trump's own ham-handed efforts at interference, have made it incrementally less tenable for Republicans to hold out against such a full accounting."