Male tennis player gropes and forces unwanted kisses on woman reporter trying to do her job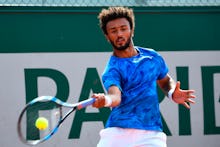 Tennis player Maxime Hamou has been booted from the French Open after forcing kisses on a reporter during an interview Monday, according to the BBC. The French Tennis Federation revoked Hamou's accreditation on Tuesday and launched an investigation in response to what they called his "reprehensible behavior."
Following his first round loss on Monday, the 21-year-old Frenchman spoke with Eurosport correspondent Maly Thomas. In footage tweeted by Lynn Bee, Hamou can be seen pulling Thomas to his side, then bending to kiss her on her head, cheek and neck. She tries to squirm out of his grasp, but he just keeps trying. Toward the end of the video, Hamou also appears to grope Thomas' breast.
According to the BBC, Hamou has apologized. Yet his behavior, however inappropriate, isn't unique: Earlier this month, a BBC reporter groped a woman's breast on camera, later explaining that the boob brush was "completely unintentional." And who can forget news anchor Tony "Chompers" Jones, who once swooped in to kiss his pregnant coworker, Rebecca Judd, as they wrapped up an evening broadcast. 
Thomas was not amused. Speaking to Huffington Post France, she called the situation "frankly unpleasant," adding that, "If it hadn't been live, I would have punched him."