'Arms' Nintendo Switch Skillshot Guide: How to win at target practice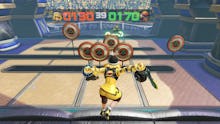 Soon, the Arms global testpunch for Nintendo Switch will once again be underway. This time, instead of just pummeling the digital versions of your friends and strangers, you'll be able to engage in mini-games. In addition to fighting, according to Nintendo Life, players will be able to play basketball in the game and play the target practice mode Skillshot.
'Arms' characters tips and tricks: How to win at Skillshot
Official previews of Arms and by fans on Youtube show us exactly what to expect in this challenge. Here's a few tips when facing off in Skillshot during the upcoming Arms global testpunch part two.
Skillshot requires you to break the targets in front of you, but it isn't as simple as target practice. There will be an opponent across from you looking to break the same bullseyes. In addition, the enemy can whack you from across the field, causing you to lose points. Luckily, you can do the same. But first, the basics.
Break targets, and do a few in a row
Arms lets you not only aim your punches forward but curve them as well using motion control or the directional stick. Use this to hit targets behind other targets. Whereas one target nets you 10 points, hitting two with one punch garners you 30 — the points go up from there.
The more you can stack in a row the higher your combo score. Finish off with a jab to your opponent to really seal the deal.
In true Arms fashion, you can still attack the opponent
Just because you're focused on smashing targets doesn't mean you can't still bop the enemy on their head. Along with hitting targets, land a hit on your enemy to take away from their score. Combining this with combo target hits will lead to you increasing your potential for a win.
Use bombs to your advantage
Like regular matches, giant bombs will occasionally fall from the sky for no explained reason. Use them before your opponent does: punch it once to get it in position to blow up some targets. Hit it again to get it closer to your enemy. The bomb is your shot to either gain points or take some away from the other end of the field. Go out with a bang.
Check out more Arms news and coverage
Looking for more Nintendo Switch news? Check out how blind gamers are using the Nintendo Switch and why you can't get your Mii to look quite like you. Nintendo's left Joy-Con issue turns out to be a hardware problem — here's how to solve it. Find out how to buy a console amid the recent restock. Learn why the Switch cartridges taste so bad. Check out our comparison photos sizing up the Switch to the Wii U GamePad (part one and part two), or find out how to make use of ethernet without the dock and the best way to get alerts when new stock arrives.