Does 'Nashville' recover from the loss of Rayna Jaymes? In some ways, yes.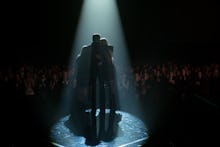 (Editor's Note: This article contains spoilers from the second half of Nashville's fifth season.)
After the death of Rayna Jaymes on the Emmy and Golden Globe-nominated series Nashville, many fans were reeling over the seemingly sudden shift in the show's direction. It was especially shocking considering Connie Britton, who played Rayna, told Ellen DeGeneres that she was "in for the duration" of season five. 
Die-hard fans of the show took to Twitter after the devastating episode, appropriately titled "If Tomorrow Never Comes," to voice their sadness over the loss. 
Their frustration is understandable. When ABC canceled the series, fans rallied to have it resurrected, which ultimately resulted in CMT picking it up. Then, after all that, one of their favorite characters is killed in a car accident? It's surprising they didn't march on the studio with pitchforks. 
That said, the two episodes following Rayna's death did a decent job of capturing the grief the characters — and everyone watching — were no doubt experiencing. Full disclosure, this writer couldn't make it through Maddie's tribute song to her mother without weeping buckets. 
Much like a family stumbling through grief, it was unclear how, or even if, the show would carry on without one of its most beloved characters. 
That mystery is still in place when Nashville returns Thursday, June 1, at 9 p.m. Eastern after a brief hiatus. But here's what the first episode of season five, part two denotes about the series' future:
There are still great characters to root for
Rayna may have added a ton of heart to Nashville, but she's not the only character who plays that chord. Scarlett O'Connor, played by Clare Bowen, has really come into her own this season, and has developed some intriguing layers. For one, in the latter part of season five, she's dealing with a new pregnancy and all the issues that may come with raising an initially unplanned baby. Thanks to Bowen's portrayal, it's clear she has mixed emotions about that, as well as the baby's father, which means anything could happen in this new situation. 
On the other end of the spectrum, Hayden Panettiere's Juliette Barnes has been rounded out significantly as a character post-airplane crash. After regaining the use of her legs, she's attempting to rediscover her musical personality, and it's not going too well. This might have made the old Juliette spiral out of control, but this more mature Juliette is taking it in, and allowing the challenges to change her in a good way. While helping Maddie with her burgeoning career, she may even grow out of performing and into producing. 
The family drama feels more real
While Rayna was alive, it often felt like the drama that ensued between her and her daughters was a bit manufactured. Now that Deacon, Maddie and Daphne are dealing with real tragedy, however, the drama that's developing feels genuine and earned. 
Deacon is doing his best to raise two daughters without the love of his life, and every moment of it is difficult to watch for good reason. It's been more than 10 weeks since Rayna's death, and he can't seem to be able to reach Daphne, which is absolutely in line with reality. Unlike Maddie, who's got the beginning of her exciting career to distract her, Daphne is just developing into who she's going to be, and now she has to do it without her mom. Of course she'd be deeply depressed, angry and maybe even suicidal at times.
It's good to see that a show like Nashville isn't afraid to delve deeply into this tricky issue. It may help kids who are struggling with the same things feel represented, and like they're not alone. 
Maisy Stella, who plays Daphne, navigates the emotional change with aplomb. She takes her character to an extremely dark place, and isn't afraid to get truly ugly at times. Frankly, her sister Lennon, who plays Maddie, could take a lesson from her on character depth. 
What the future holds for Nashville
Nashville has officially been renewed for a sixth season, so it will definitely have some kind of future. Here's what that might look like based on the first episode of season five's return:
Highway 65 is in trouble now that its creator is gone, so it will need someone to step up, or it will likely flounder. If Juliette continues to head down this producer path with Maddie, my money is on her becoming the next CEO of Highway 65 along with Deacon and her husband, Avery. Based on his devil-may-care attitude, Zach, the current head, probably won't stay long in this country music world, or with his beau and country music star Will for that matter. 
On the family side of things, Daphne's behavior will probably come to a head, and involve some major confrontation with Maddie, over whom she's been harboring a great deal of resentment. The two could come together over the distrust of a new love interest for Deacon, something I suspect will likely be introduced shortly.
Is Nashville 2.0 sans Rayna worth a second chance? Based on all the bold moves the show is making, I say yes. Die-hard Rayna fans, you have every right to boycott the show, but if you're ever missing the landscape, know there are plenty of familiar faces still there to welcome you back. And they won't tell anyone that you're watching. 
Nashville airs Thursdays at 9 p.m. on CMT.