Muslim New Yorkers will pray and break their Ramadan fast right in front of Trump Tower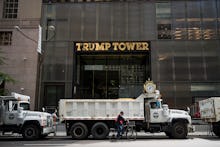 On Thursday, about 450 Muslim activists and their allies in New York City are planning to protest President Donald Trump's xenophobic rhetoric and policies. 
MPower Change, a Muslim grassroots organization, is teaming up with the New York State Immigrant Action Fund to host Iftar at Trump Tower in Manhattan. Iftar is the first meal Muslims eat after sunset during the month-long fast of Ramadan. The protest will begin at 7:30 p.m. with a short speaking program featuring local community leaders. But when the clock strikes 8:22 p.m., the Islamic call to prayer will begin and Muslim activists will break their fast with the traditional sip of water and some dates before making their evening prayers.
Iftar at Trump Tower was planned directly in response to the administration's xenophobic rhetoric and policies like the Muslim ban, Mohammad Khan, campaign director at MPower Change, said. 
"Through its rhetoric and policies, the Trump administration is trying to erase Muslims and other people of color from civil and public life," Khan said. "The symbolism of [holding the Iftar] in front of the Trump Tower is letting the administration know that New Yorkers of all backgrounds are coming, we're here, we've been here and we're here to stay."
The Iftar at Trump Tower will be the first Iftar event of MPower Change's national "Iftar on the Streets" campaign this year. The campaign's purpose is to encourage Muslim Americans to use the holy month to foster community building and an opportunity for Muslim Americans to work on or advocate for local issues.
MPower Change's second Iftar event will be held in Los Angeles during the second week of June. The main focus of the Iftar in LA, according to Khan, will be in support of California's Sanctuary State Bill and California Values Act. According to the Los Angeles Times, the Sanctuary State Bill hopes to expand sanctuary city policies that would block local and state law enforcement agencies, including police officers in schools, from interrogating, investigating, detaining, detecting or arresting people for immigration-related purposes. Similarly, the California Values Act is a call to prohibit the federal government from using any local or state resources to carry out mass deportations. 
On Friday, Trump issued a statement wishing Muslims in the United States a blessed Ramadan with nearly every sentence mentioning terrorism or national security. Moments later, Secretary of State Department Rex Tillerson broke a 20-year American tradition by refusing to host any Ramadan-related events this year.
"The initial reaction I had [to Tillerson's refusal to host a Ramadan event] is 'thank God,'" Khan said. "I don't know any Muslim who would want to attend an Iftar dinner with Rex Tillerson. Under the Trump administration, he has been complicit in encouraging white nationalists, and helping and enacting the Muslim ban. I don't think Muslims should feel bad about this missed opportunity."