The secret to finding the best cheap, delicious wine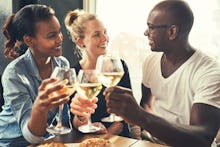 Wine might seem like something only rich people can enjoy — a visit to Napa Valley or Bourdeaux might cost you a bit more than a day at Six Flags, after all. But the truth is, your wine expertise need not depend on your wallet.
Indeed, research suggests that most people can't actually taste the difference between more expensive and cheaper bottles. And there are just a few basic concepts you have to know to go from being a complete oeno-dunce to someone who can feel confident in the wine aisle.
Mic interviewed professional sommelier and VinePair tastings editor Courtney Schiessl about the simple questions to keep in mind when you're buying a bottle — no matter the occasion.
Here are three heuristics to help guide you. You might be surprised by how easy it is to buy cheap wine that is also delicious and interesting.
1.  Your mood and palate matter most
You're going to be able to find something of quality within your budget, Schiessl insists, no matter what you like. The important move is figuring out what flavors you or your hosts want that evening — you don't want to buy something that might leave a poor taste. WineFolly has an incredibly detailed infographic here that can help further guide you.
To start, the main choices you'll need to decide between are:
• Red, white, or rosé: Do you enjoy flavors that are more or less robust or hearty? Typically, the redder the wine, the more raw grape parts were left in during the fermentation process.
• Fruity or earthy: Do you like more tart and sweet tastes, like those in a Pinot Noir? Or would you prefer something more herbal and tannic — aka bitter — like Cabernet Sauvignon?
Another factor to consider is alcohol content. There are three broad categories here: Wines under 12.5% alcohol (think Riesling and Prosecco); wines between 12.5% and 13.5% (rosé, Pinot Grigio, Sauvignon Blanc), and 13.5% and up (Cabernet, Merlot, Chardonnay).
You'll want to consider the social occasion and what kind of food you're going to be eating — and how much. VinePair doesn't dispute the rule-of-thumb about red with meat and white with fish, but explains that fattier foods typically go best with red, and leaner foods go best with white.
"Tannins from red wine and fat from meat go together like bourbon and Kentucky," they write. "Just as hops in beer add bitterness, tannins in wine add astringency, drying out your mouth as you drink it.... The tannins bind with the fat when consumed together, however, and this lets you focus on the other parts of the wine like the fruity aroma and bright acidity."
2.  You can get great wine for less than $20
Experts suggest that between $15 and $25 is a sweet spot for high-value wine that balances quality with affordability.
Indeed, if you're trying to impress, the best way is not necessarily with price, but with variety: The most important thing to do when thinking about wine is not actually thinking, but asking, Schiessl says.
You should figure out who does the wine purchases at the store or restaurant you're buying from, and ask them what they went after because they liked it — not because they had to have it to complete their wine set.
"Unless you're going somewhere that you really need to impress, like a boss or a parent that really knows wine, keeping it under $20 is totally fair," she says.
Wine.com's most popular wines for under $20 include a $15 Bourdeaux, an $11 Cabernet Sauvignon, and an $18 Merlot.
3.  When all else fails, go bubbly
Schiessl says there are few hard and fast rules — even if you have heard otherwise — about choosing wine. And you can something that will taste good at almost any price point.
"It's not always as simple as easy to grow [equals a] lower price point, because it all depends on climate," she said in an email. Still, some wines you'll want to be pickier about: Pinot Noir is a finicky, literally thin-skinned grape, for example, but is mass produced anyway because of its popularity. Alas, cheaper Pinot Noirs are notoriously lacking.
If she had to pick a varietal that tastes great at almost any price, Schiessl says she would recommend Chardonnay and Cabernet Sauvignon, because they will ripen in both cooler climates and warmer climates, meaning no matter the vine region, there's a good chance it'll taste decent.
If you have to make a last-minute decision, she says, or don't trust your server to make the right decision, go with a Prosecco or Cava — anything that can go down easy because it's more acidic.
Sign up for The Payoff — your weekly crash course on how to live your best financial life. Additionally, for all your burning money questions, check out Mic's credit, savings, career, investing and health care hubs for more information — that pays off.