Kathy Griffin apologizes for photo with Donald Trump's severed head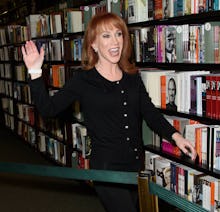 Comedian Kathy Griffin has apologized for a now-notorious photo of her posing with a fake, blood-soaked severed head resembling Donald Trump, saying she did not anticipate widespread anger and she "went way too far."
"I sincerely apologize," Griffin said in a video posted on Tuesday evening. "I am just now seeing the reaction of these images. I'm a comic. I cross the line. I move the line, then I cross it. I went way too far."
"The image is too disturbing, I understand how it offends people," she added. "It wasn't funny. I get it. I've made a lot of mistakes in my career, I will continue. I asked your forgiveness ... gonna ask the photographer to take down the image, and I beg for your forgiveness."
"I went too far, I made a mistake and I was wrong," Griffin concluded.
The photo, from a shoot with photographer Tyler Shields, immediately obtained widespread notoriety after it was obtained and posted by TMZ. 
Griffin's apology, however, may have had other motivations than placating anger from across the political spectrum: The Secret Service posted earlier in the day that "threats made against @SecretService protectees receive the highest priority of all our investigations."